Polyurethane High Pressure Foam Filling Machine PU Injection Equipment for 3D Panel
Introduction
Details
Specification
Application
Video
Product Tags
The polyurethane high pressure foaming machine mixes polyurethane and isocyanate by colliding them at high speed, and makes the liquid spray out evenly to form the required product. This machine has a wide range of applications, easy operation, convenient maintenance and affordable price in the market.
Our machines can be customized according to customers' requirements for various output and mixing ratios. These PU foam machines can be used in various industries such as household goods, automobile decoration, medical equipment, sports industry, leather shoes, packaging industry, furniture industry, military industry, etc. Our machines are ideal for novice and long-term users.
Feature:
1.The raw material heat exchange system adopts the double heat exchange method, with small heat loss, remarkable energy-saving effect and even and soft heating.
2.Adopt self-cleaning filter, the raw materials from the inlet directly into the barrel, from the outside to the inside through the filter element filter, after filtering the raw materials from the bottom up into the clean material mouth.
3.The material of steel heat exchanger is stainless steel, which has very good anti-oxidation characteristics, safety and hygiene, and will not pollute the raw materials.
4.The mixing head is made of high quality and high strength tool steel, which has long service life, uniform mixing, stable performance, simple operation and high production efficiency.
5.PLC programmable controller is adopted to control the whole foaming machine automatically, with reliable and efficient action.
---
---
Magnetic float level meter by the tube inside the magnetic float to flip the plate from white to red, with the liquid level up and down floating induction switch to send a signal, the level meter does not need power supply, can directly observe the level of material.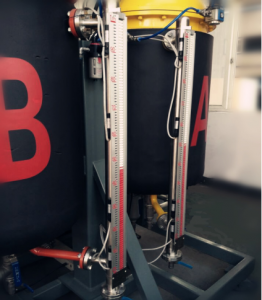 The L-shaped mixing head consists of a specially sealed mixing chamber with a clean chamber and a hydraulic section. The mixing chamber plunger is hydraulically controlled by its action, when the plunger is backed off the component circulation circuit is cut off, the two components through the nozzle to form a high-pressure collision mixing. The cleaning chamber plunger is also hydraulically controlled and the cleaning plunger will operate separately to complete the cleaning function in the non-injection state.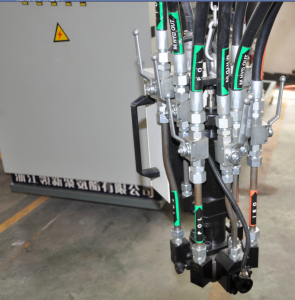 Rocker component parts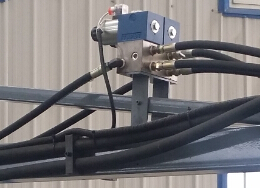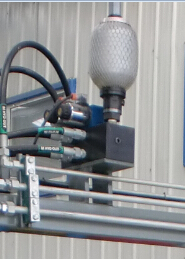 Item

Technical parameter

Foam application

Flexible Foam

raw material viscosity(22℃)

~3000CPS

ISO  ~1000MPas

Injection output

80~375g/s

Mixing ratio range

100:50~150

mixing head

2800-5000rpm, forced dynamic mixing

Tank volume

120L

metering pump

A pump: GPA3-25 Type

B Pump: GPA3-25 Type

input power

three-phase five-wire 380V 50HZ

Rated power

About 12KW
3D wall panel Polyurethane Foaming
Machine For Leather Carving Decor Panel
Write your message here and send it to us