Three Components Polyurethane Foam Dosing Machine
Introduction
Details
Specification
Applications
Product Tags
The three-component low-pressure foaming machine is designed for simultaneous production of double-density products with different densities. Color paste can be added at the same time, and products with different colors and different densities can be switched instantly.
---
Previous:
Polyurethane Table Edge Banding Machine
---
1. High-precision metering pump, accurate ratio, measurement error does not exceed ± 0.5%;
2. Adopted variable frequency motor with variable frequency to regulate raw material flow, pressure, high precision, easy and quick proportional adjustment;
3. High-performance mixing device, the material is spit out accurately and evenly; the new sealing structure is reserved, and the cold water circulation interface is reserved to ensure continuous production for a long time without clogging;
4. Adopt three-layer storage tank, stainless steel liner, sandwich type heating, outsourcing insulation layer, adjustable temperature, safe and energy-saving;
5. Can add sample system, try switching to small materials testing at any time, does not affect the normal production, saving time and materials;
6. The adoption of PLC touch screen human-computer interface control panel makes the machine easy to use and the operating situation was absolutely clear;
7. Can be loaded fully automatic feeding, high-viscosity packing pump, lack of alarm, mixed head self-cleaning, etc.;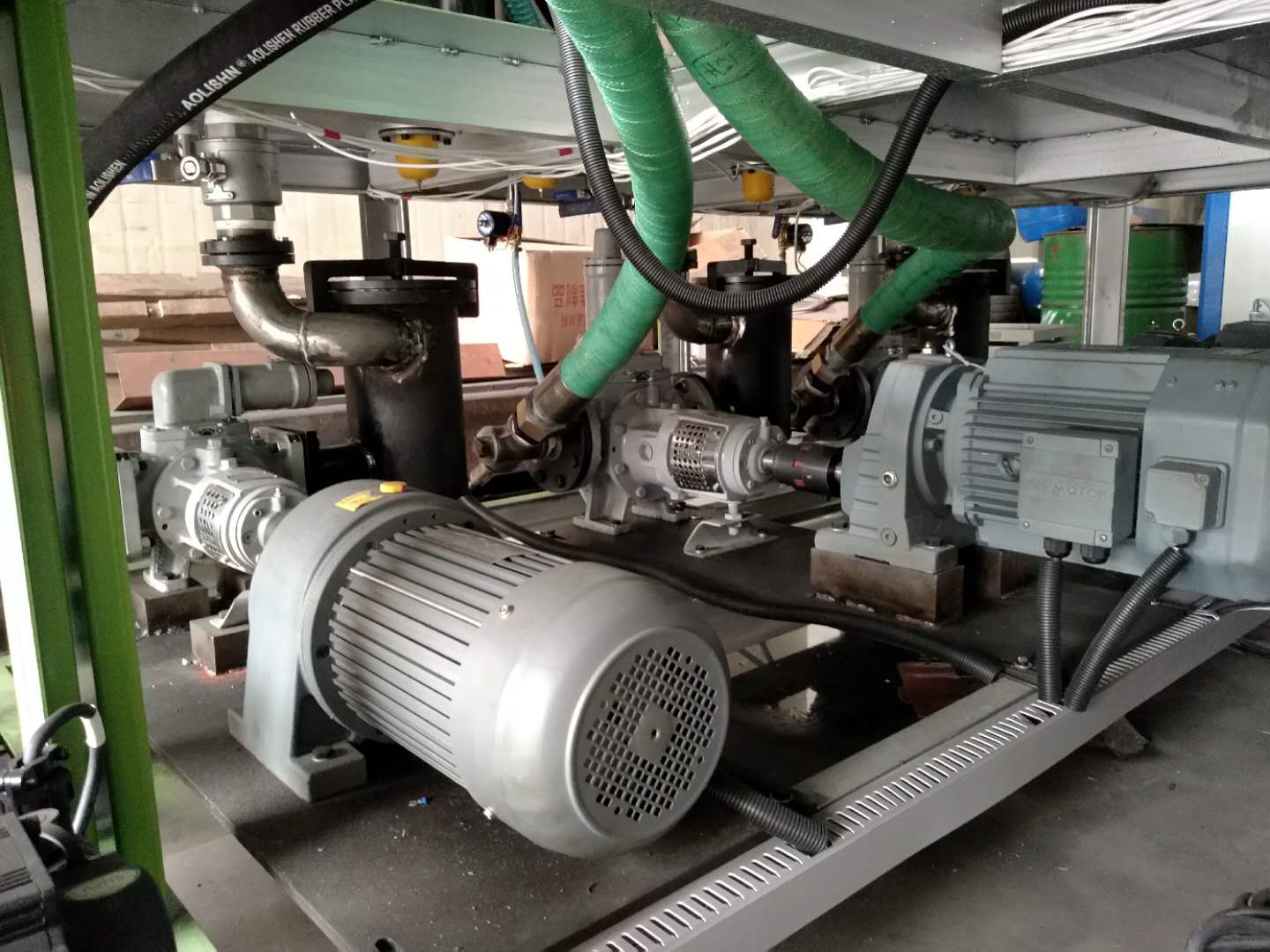 | | | |
| --- | --- | --- |
| No. | Item | Technical parameter |
| 1 | Foam application | Flexible Foam |
| 2 | Raw material viscosity(22℃) | POL ~3000CPSISO ~1000MPas |
| 3 | Injection flow rate | 2000~4550g/s |
| 4 | Mixing ratio range | 100:30~55 |
| 5 | Mixing head | 2800-5000rpm, forced dynamic mixing |
| 6 | Tank Volume | 250L |
| 7 | Input power | Three-phase five-wire 380V 50HZ |
| 8 | Rated power | About 70KW |
| 9 | Swing arm | Rotatable 90°swing arm, 2.5m (length customizable) |
Polyurethane is a polymer with repeating structural units of urethane segments made by the reaction of isocyanate and polyol. Compared with ordinary rubber soles, polyurethane soles have the characteristics of light weight and good wear resistance.
Polyurethane soles use polyurethane resin as the main raw material, which solves the current domestic plastic soles and recycled rubber soles that are easy to break and the rubber soles are easy to open.
By adding various additives, the polyurethane sole has been greatly improved in terms of wear resistance, oil resistance, electrical insulation, anti-static and acid and alkali resistance. The author studied the use of new processing technology, molding technology and appearance design, and the safety performance of the shoes is more stable. And it is beautiful and comfortable to wear, durable, reaching the domestic leading level
Write your message here and send it to us