Electric Silicone Rubber Flexible Oil Drum Heater for Heating
Introduction
Details
Specification
Application
Product Tags
The heating element of the oil drum is composed of nickel-chromium heating wire and silica gel high temperature insulating cloth. Oil drum heating plate is a kind of silica gel heating plate. Using the soft and bendable characteristics of the silica gel heating plate, metal buckles are riveted on the reserved holes on both sides of the heating plate, and the barrels, pipes, and tanks are buckled with springs. The silica gel heating plate can be tightly attached to the heated part by the tension of the spring, and the heating is rapid and the thermal efficiency is high. Easy and fast installation.
The liquid and coagulum in the barrel can be easily taken out by heating, such as the adhesive, grease, asphalt, paint, paraffin, oil and various resin materials in the barrel. The barrel is heated to make the viscosity drop uniformly and reduce the pump Skill. Therefore, this device is not affected by the season and can be used all year round.
---
---
Structural performance:
(1) It is mainly composed of nickel-chromium alloy wire and insulating material, which has fast heat generation, high thermal efficiency and long service life.
(2) The heating wire is wound on the alkali-free glass fiber core frame, and the main insulation is silicon rubber, which has good heat resistance and reliable insulation performance.
(3) Excellent flexibility, can be directly wound on the heating device, with good contact and uniform heating.
Product advantages:
(1) Light weight and flexibility, good waterproof performance and fast heat generation;
(2) The temperature is uniform, the thermal efficiency is high, and the toughness is good, meeting the American UL94-V0 flame resistance standard;
(3) Anti-moisture and anti-chemical corrosion;
(4) Reliable insulation performance and stable quality;
(5) High safety, long life and not easy to age;
(6) Spring buckle installation, easy to use;
(7) It is not affected by the season and can be used all year round.
| | |
| --- | --- |
| Description and volume | Drum heaters:200L(55G) |
| Size | 125*1740*1.5mm |
| Voltage and power | 200V  1000W |
| Temperature Adjustment range | 30~150°C |
| Diameter | About 590mm(23inch) |
| Weight | 0.3K |
| MOQ | 1 |
| Delivery time | 3-5 days |
| packaging | PE bags and carton |
By heating the surface of the oil drum or liquefied gas tank, the viscosity of the objects in the barrel is reduced evenly. Ideal for heating up WVO for settling or processing biodiesel. Flexible springs are used to attach the silicon heater around various diameter drums. The springs can stretch up to about 3 inches. Fits most 55 gallon drums.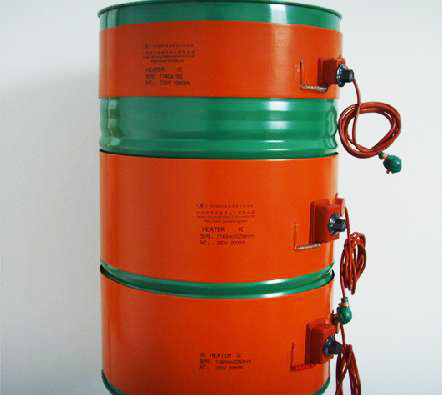 Write your message here and send it to us