Fully Automatic Syringe Dispensing Machine Pproduct LOGO Filling Color Filling Machine
Introduction
Specification
Application
Product Tags
Feature
High Precision: Syringe dispensing machines can achieve extremely high liquid dispensing accuracy, ensuring precise and error-free adhesive application every time.
Automation: These machines are often equipped with computer control systems, enabling automated liquid dispensing processes that enhance production efficiency.
Versatility: Syringe dispensing machines can accommodate various liquid materials, including adhesives, colloids, silicones, and more, making them versatile in application.
Adjustability: Users can adjust dispensing speed, thickness, and patterns as needed to adapt to the requirements of different projects.
Reliability: These devices are designed for stability, ensuring consistent coating quality and reducing material wastage and rework needs.
Wide Application: Syringe dispensing machines find widespread use in electronic encapsulation, PCB assembly, precision assembly, medical device manufacturing, and various other industries.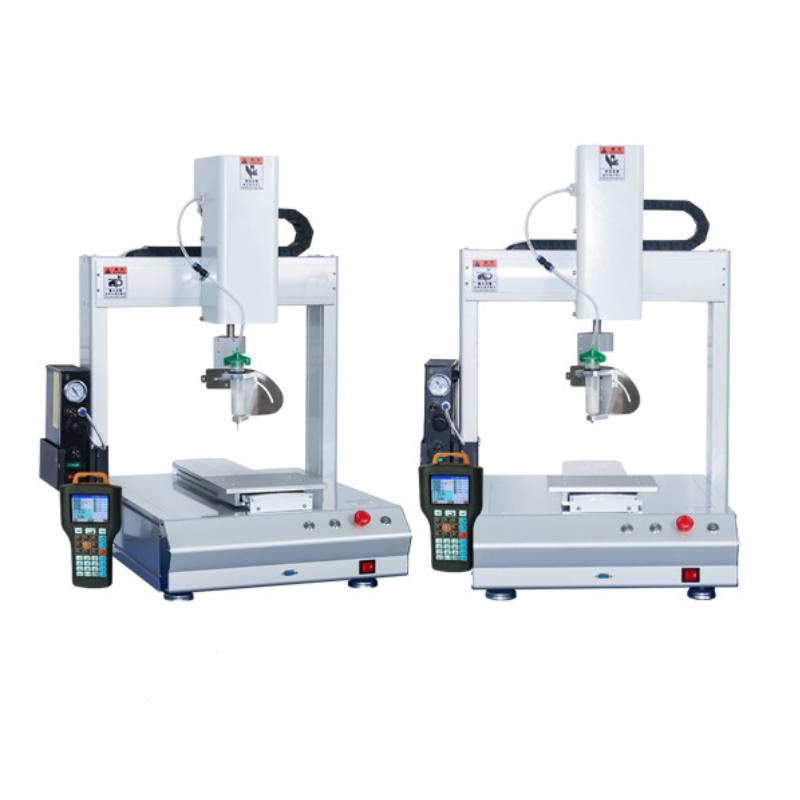 ---
Next:
Fully Automatic Hot Melt Adhesive Dispensing Machine Electronic PUR Hot Melt Structural Adhesive Applicator
---
Model
Dispensing robot
Trip
300*300*100 / 500*300*300*100 mm
Programing mode
Import teaching programming or graphics
Movable graphics track
Point ,line, are, circle ,curve, multiple lines, spiral, ellipse
Dispensing needle
Plastic needle/TT needle
Dispensing cylinder
3CC/5CC/10CC/30CC/55CC/100CC/200CC/300CC/500CC
Minimum discharge
0.01ml
The glue frequency
5 times/SEC
Load
X/Y axle load
10kg
Z axle load
5kg
Axial dynamic speed
0~600mm/sec
Resolving power
0.01mm/Axis
Repeated positioning accuracy
Screw drive
0.01 ~0.02
synchronous belt drive
0.02 ~0.04
Program record mode
At least 100 groups, 5000Points each
Display mode
LCD teaching box
Motor system
Japan precision micro stepping motor
Drive mode
Guide
Taiwan upper silver linear guide rail
Wire rod
Taiwan silver bar
Belt
Italy Lartey synchronous belt
X/Y/Z axis synchronous belt for standard configuration, Z axis screw rod is optional, X/Y/Z axis screw rod for customization
Motion filling function
Three dimensional space any route
Input power
Full voltage AC110~220V
External control interface
RS232
Motor control shaft number
3 axis
Axis range
X axis
300(Customized)
Y axis
300 (Customized)
Z axis
100(Customized)
R axis
360°(Customized)
Outline size(mm)
540*590*630mm / 740*590*630mm
Weight (kg)
48kg / 68kg
Electronic Encapsulation and Assembly: In electronics manufacturing, syringe dispensing machines are used for precise application of adhesives, conductive pastes, or encapsulation materials. They ensure reliable connections of electronic components and provide excellent insulation.
PCB Manufacturing: During the production of printed circuit boards (PCBs), syringe dispensing machines are used to apply solder paste, protective coatings, and markings, ensuring the performance and reliability of the PCBs.
Medical Device Manufacturing: In the medical device field, these machines are employed for the assembly and encapsulation of medical equipment, ensuring compliance with stringent hygiene and quality standards.
Automotive Industry: Syringe dispensing machines are used in automotive assembly to apply sealants, adhesives, and lubricants, ensuring the durability and performance of automotive components.
Aerospace: In aerospace manufacturing, these machines are used to apply composite materials, sealants, and lubricants to meet extreme environmental and performance requirements.
Precision Assembly: Syringe dispensing machines find applications in various precision assembly tasks, including the coating and fixation of optical equipment, instruments, electronic components, and micro-parts.
Art and Craftsmanship: In the realm of art and craftsmanship, these machines are employed for the precise application of glue, paints, and decorative materials to create high-quality handmade products.
Write your message here and send it to us