Polyurethane Low Pressure Foam Injection Machine For Makeup Sponge
Introduction
Detail
Specification
Application
Video
Product Tags
1.High-performance mixing device, the raw materials are spit out accurately and synchronously, and the mixture is uniform; the new sealing structure, reserved cold water circulation interface, ensures long-term continuous production without clogging;
2.High-temperature-resistant low-speed high-precision metering pump, accurate proportioning, and the error of metering accuracy does not exceed ±0.5%;
3.The flow and pressure of raw materials are adjusted by frequency conversion motor with frequency conversion, with high precision and simple and quick ratio adjustment;
4.It can be loaded with optional accessories such as automatic feeding, high-viscosity packing pump, alarm for lack of material, automatic cycle at shutdown, and water cleaning of the mixing head;
5.Increase the sample material system, switch at any time when trying small materials, without affecting normal production, saving time and materials;
6.Using advanced PLC control system, automatic cleaning and air flushing, stable performance, strong operability, automatic discrimination, diagnosis and alarm, abnormal factor display, etc. when abnormal;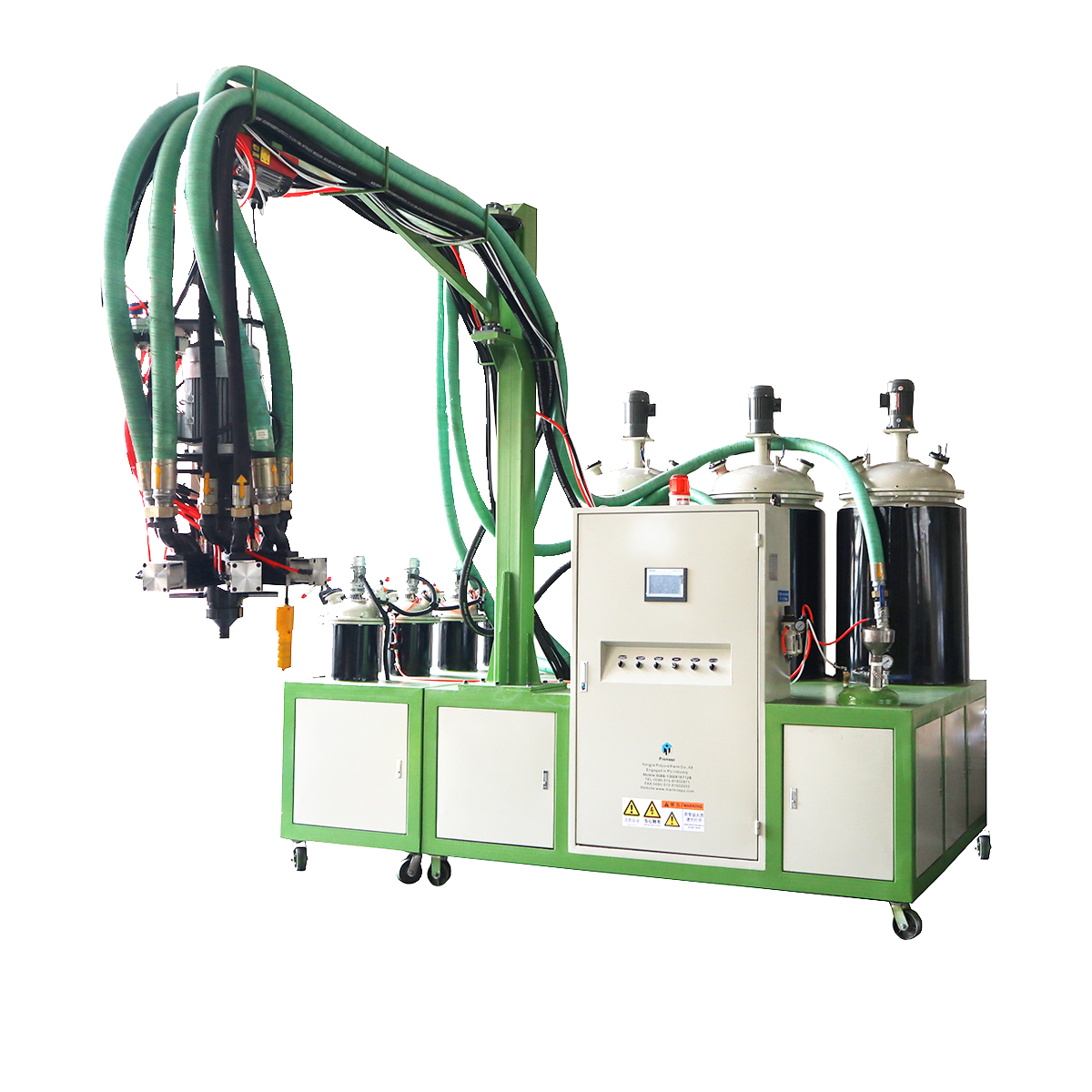 ---
Next:
Industrial Electric Servo Motors Pneumatic Paint Air Industrial Sand Electric Drum Rotary High-quality Motor Mixing Tank Agitator Mixer
---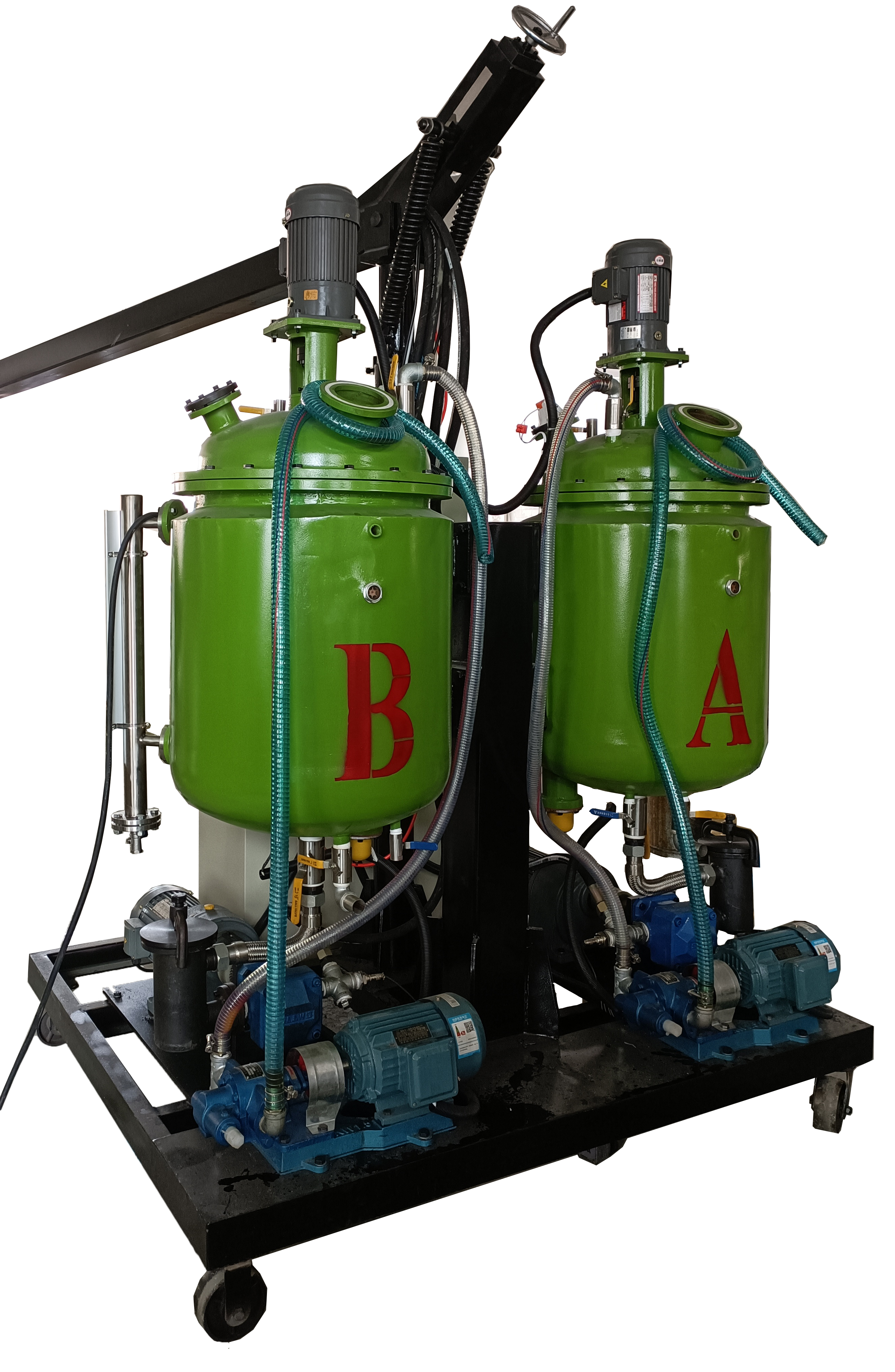 1 Manual feeding port: used to manually add raw materials to the tank.
2 Inlet ball valve: when the metering system supplies insufficient material, it is used to connect the air source to pressurize the material
send function.
3 Jacket water safety valve: When the jacket water of A and B material tanks exceeds the pressure, the safety valve will automatically start to discharge the pressure.
4 Sight mirror: observe the remaining raw materials in the storage tank
5 Cleaning tank: It contains cleaning liquid, which cleans the machine head when the injection is completed.
6 Heating tube: to heat up the A and B material tanks.
7 Stirring motor: used to drive the stirring blades to rotate, to stir and mix the raw materials, so that the temperature of the raw materials
Uniformity to prevent precipitation or liquid phase separation.
8 Exhaust ball valve: It is a valve for releasing pressure during overpressure or maintenance of A and B material tanks.
9 Reserved port for automatic feeding: When the material is insufficient, start the feeding pump to deliver the material to the tank interface.
10 Water level gauge: used to observe the water level of the jacket.
11 Discharge ball valve: it is convenient for opening and closing the valve during equipment maintenance.
No.

Item

Technical Parameter

1

Foam application

Flexible foam

2

raw material viscosity(22℃)

POLYOL~3000CPS
ISOCYANATE ~1000MPas

3

Injection Output

9.4-37.4g/s

4

Mixing ratio range

100:28~48

5

Mixing head

2800-5000rpm, forced dynamic mixing

6

Tank Volume

120L

7

Metering pump

A pump: JR12 Type B Pump: JR6 Type

8

Compressed air requirement

dry, oil free P:0.6-0.8MPa
Q:600NL/min(Customer-owned)

9

Nitrogen requirement

P:0.05MPa
Q:600NL/min(Customer-owned)

10

Temperature control system

heat:2×3.2kW

11

Input power

three-phrase five-wire,380V 50HZ

12

Rated power

about 9KW
Write your message here and send it to us