Polyurethane Car Seat Making Machine Foam Filling High Pressure Macine
Introduction
Detail
Specification
Application
Video
Product Tags
1. The machine is equipped with production management control software to facilitate production management. The main data are the ratio of raw materials, the number of injections, the injection time and the recipe of the work station.
2. The high and low pressure switching function of the foaming machine is switched by a self-developed pneumatic three-way rotary valve. There is an operating control box on the gun head. The control box is equipped with a work station display LED screen, injection button, emergency stop button, cleaning lever button and sampling button. And a delayed automatic cleaning function. One button operation, automatic execution.
3. Process parameters and display: metering pump speed, injection time, injection pressure, mixing ratio, date, raw material temperature in the tank, fault alarm and other information are displayed on the 10″ touch screen.
4. The equipment has a flow rate test function: the flow rate of each raw material can be tested individually or simultaneously. During the test, the PC automatic ratio and flow rate calculation function is used. The user only needs to enter the required ratio of ingredients and the total injection volume, then enter the current actual measured flow rate, click the confirmation switch and the device will automatically adjust the speed of the required A/B metering pump with an accuracy error of less than or equal to 1g.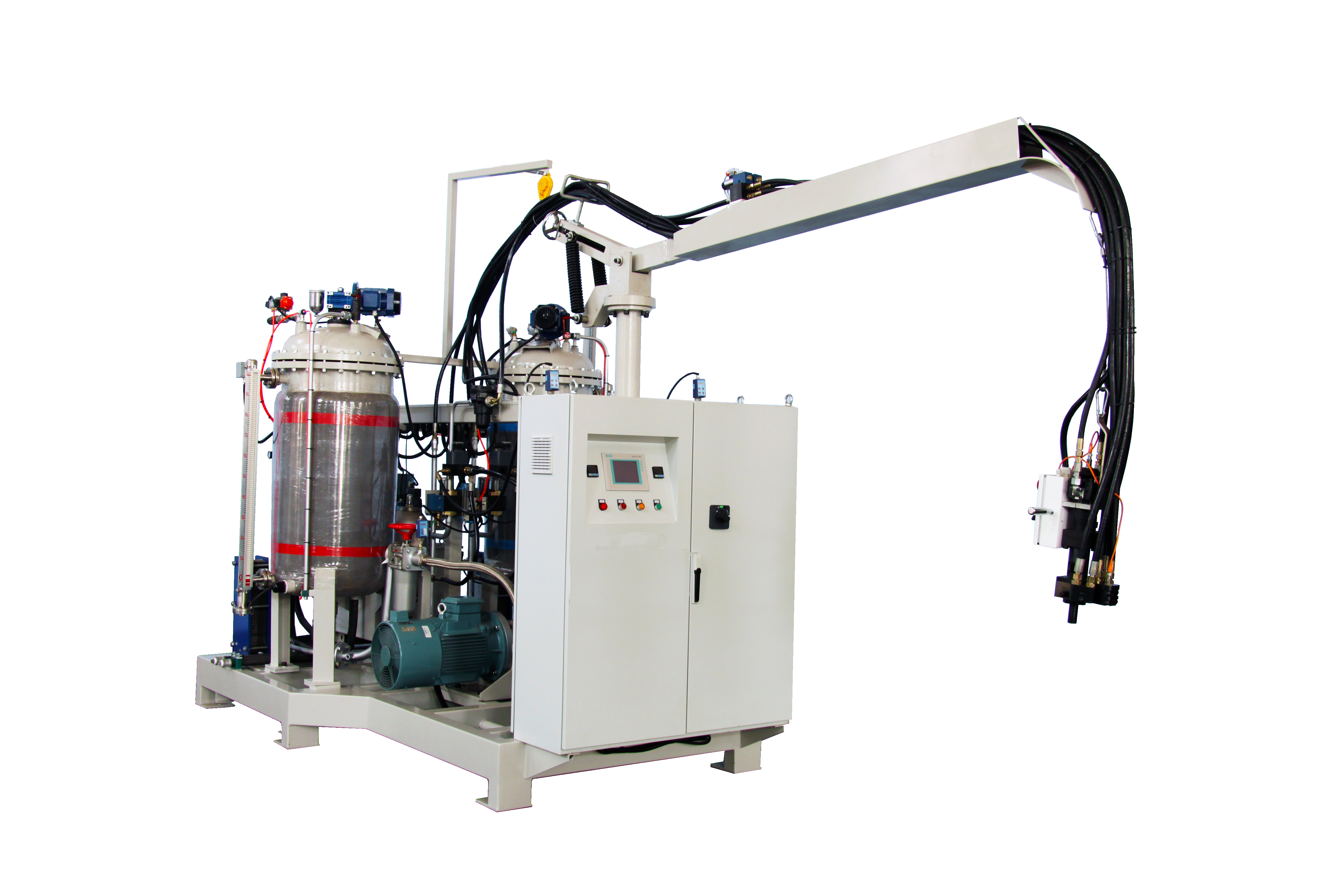 ---
---
| | |
| --- | --- |
| Item | Technical parameter |
| Foam application | Flexible Foam |
| Raw material viscosity(22℃) | POLY ~2500MPasISO ~1000MPas |
| Injection pressure | 10-20Mpa(adjustable) |
| Output (mixing ratio 1:1) | 10~50g/min |
| Mixing ratio range | 1:5~5:1(adjustable) |
| Injection time | 0.5~99.99S(correct to 0.01S) |
| Material temperature controlling error | ±2℃ |
| Repeat injection accuracy | ±1% |
| Mixing head | Four oil house,double oil cylinder |
| Hydraulic system | Output: 10L/minSystem pressure 10~20MPa |
| Tank volume | 500L |
| Temperature control system | Heat: 2×9Kw |
| Input power | Three-phase five-wire 380V |
Write your message here and send it to us