Ployurethane Imitation Wood Frame Making Machine
Introduction
Detail
Specification
Application
Video
Product Tags
The mixing head adopts a rotary valve type three-position cylinder, which controls the air flushing and liquid washing as the upper cylinder, controls the backflow as the middle cylinder, and controls the pouring as the lower cylinder. This special structure can ensure that the injection hole and the cleaning hole are not blocked, and is equipped with a discharge regulator for stepwise adjustment and a return valve for stepless adjustment, so that the entire pouring and mixing process is always synchronized and consistent, thus ensuring the product quality.
Using high-precision metering pump and variable frequency motor to adjust the speed, the adjustment is accurate, the operation is stable, and the operation is convenient.
The working procedures of pouring, cleaning and air flushing are automatically controlled by PLC program control. The temperature, speed and injection parameters are displayed on the 10-inch touch screen.
Using acid-resistant stainless steel to heat (or cool) the interlayer material tank, the interlayer is equipped with a tubular electric heater, the outer layer is insulated with polyurethane, and is equipped with cooling water inlet and outlet and moisture-proof drying cup interface in the material tank to ensure raw materials. The quality and temperature are stable.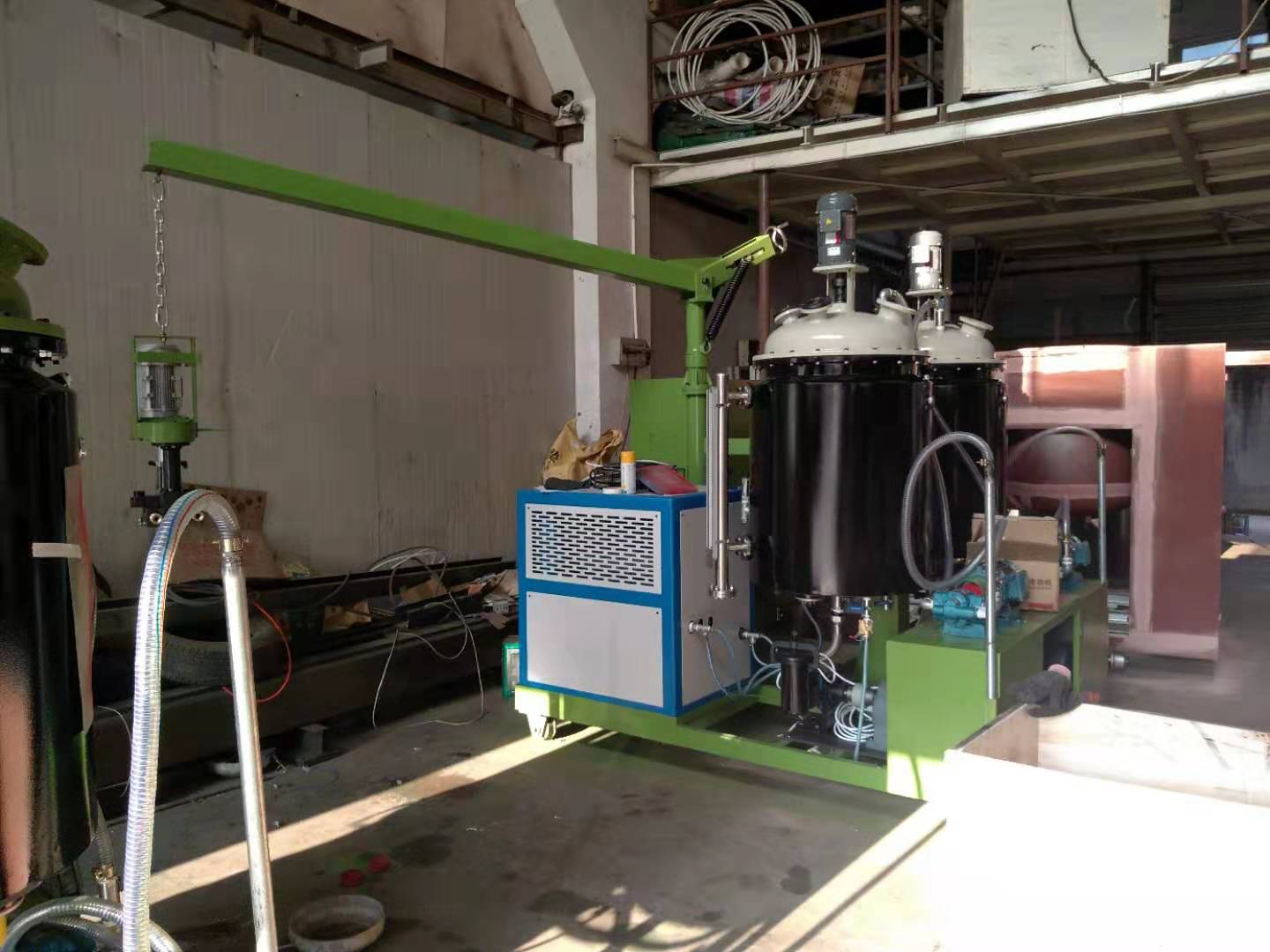 ---
---
High-performance mixing device, spit out accurate synchronization raw material, mixing
A new seal structure, reserved cold water cydle interface, to ensure the long time continuous production is not blocked;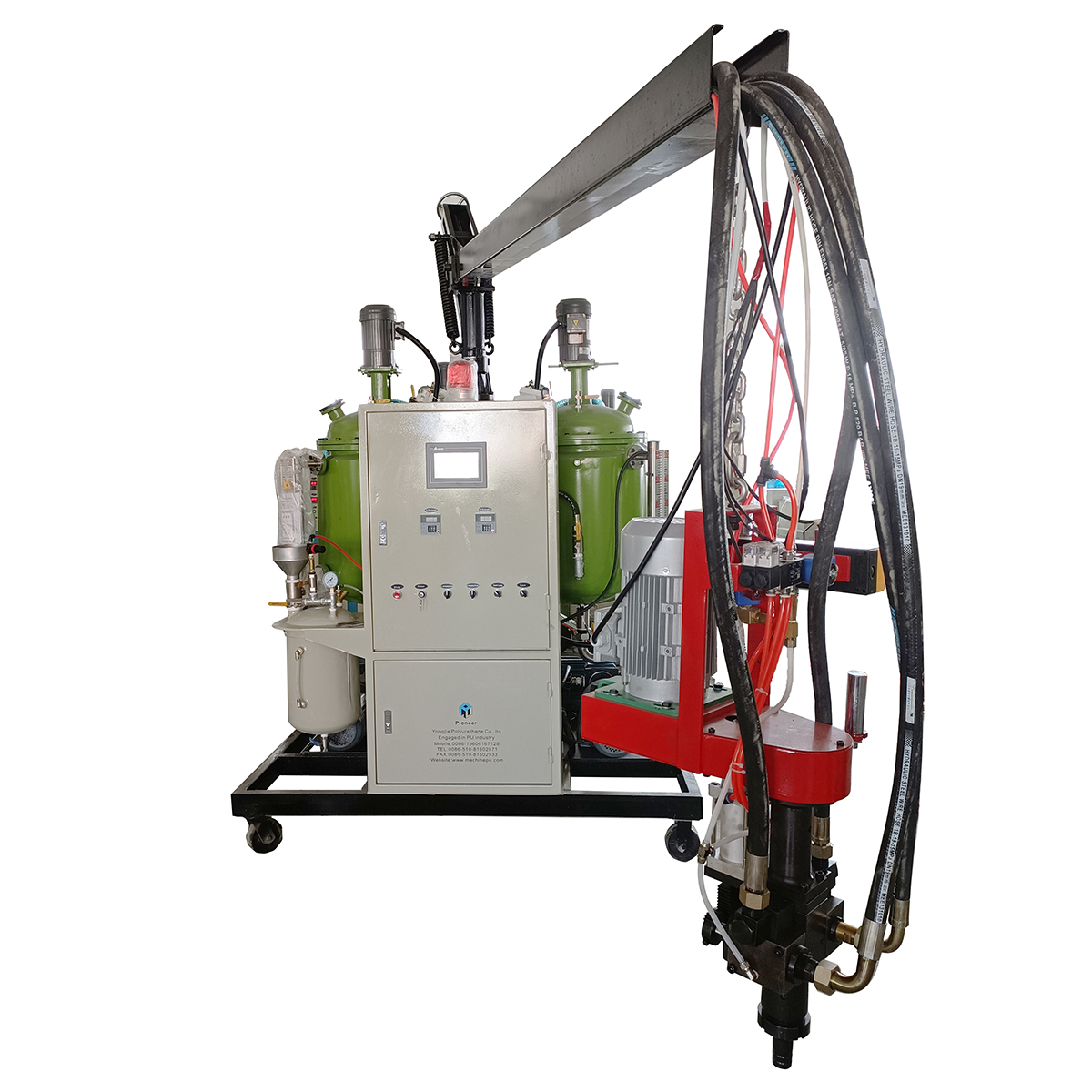 Adopt three layers of material storage tank, stainless steel tank, heating sandwich type, outsourcing insulation layer,the temperature is adjustable, safety and energy saving.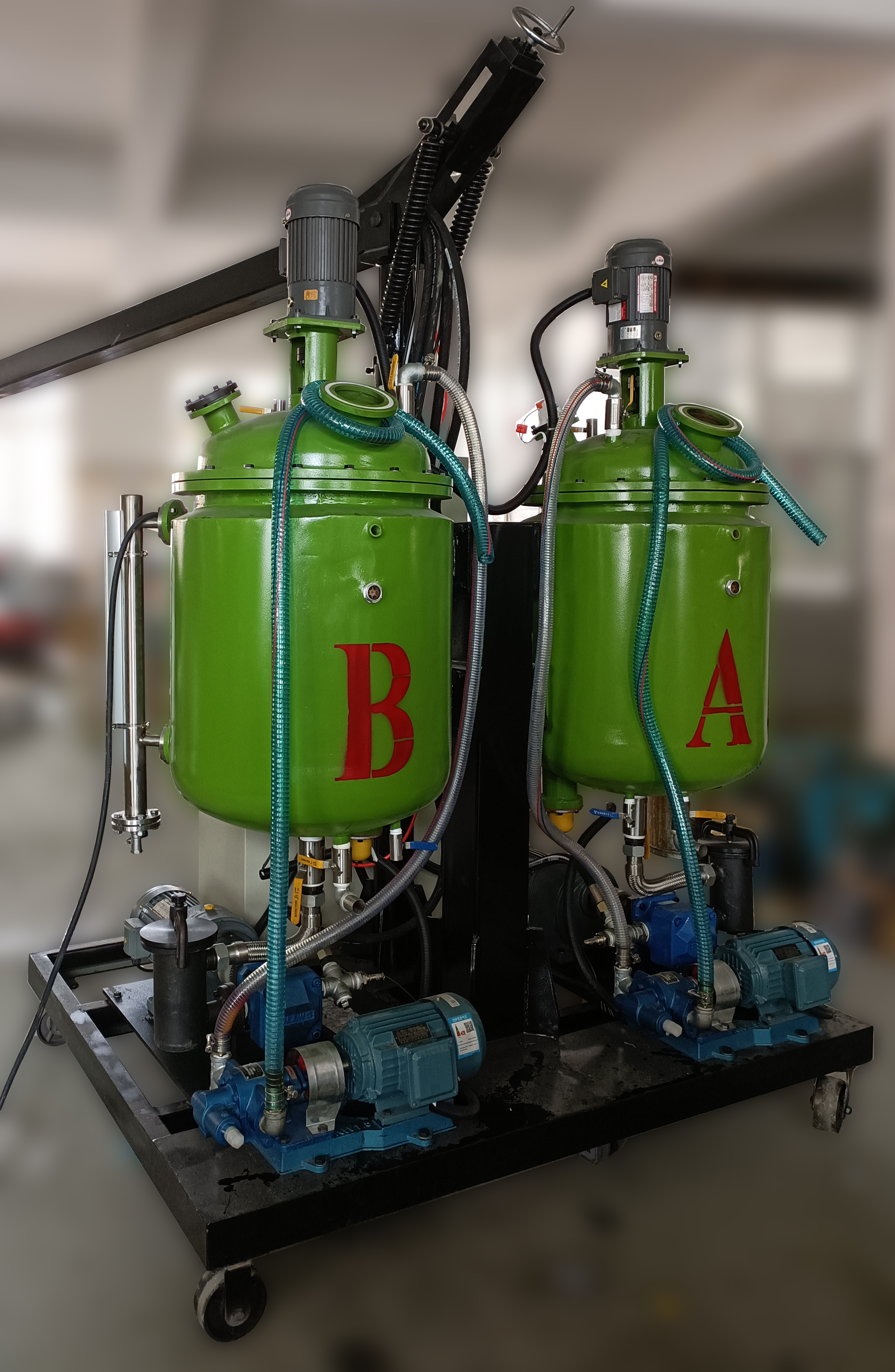 Pouring PLC touch screen man machine interface control equipment, automatic cleaning and air rushed, stable performance,strong operability, abnormal automatically discrimination, diagnosis and alarm, display abnormal factors.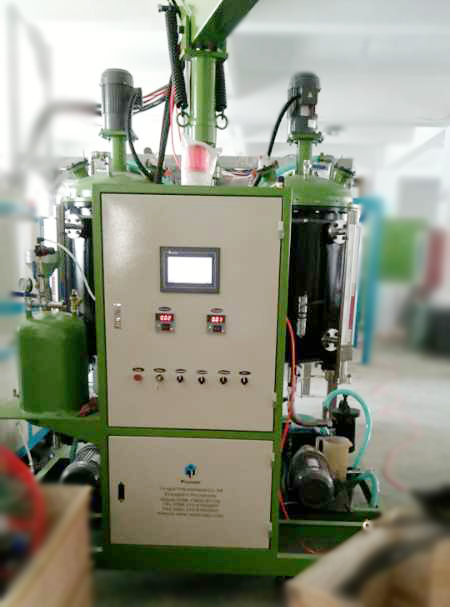 Taken the high temperature resistant low speed and high precision metering pump, the matching precision,measurement precision error is not more than土0.5%
| | |
| --- | --- |
| Item | Technical parameter |
| Foam application | Rigid foam |
| Raw material viscosity | Polyol~3000CPS  ISO ~1000MPas |
| Injection output | 80~375g/s |
| Mixing ratio range | 100:50~150 |
| mixing head | 2800-5000rpm, forced dynamic mixing |
| Tank volume | 120L |
| Metering pump | A pump: GPA3-25 Type B Pump: GPA3-25 Type |
| Compressed air needed | dry, oil free, P:0.6-0.8MPa Q:600NL/min(Customer-owned) |
| Temperature control system | heat:2×3Kw |
| input power | three-phase five-wire 380V 50HZ |
| Rated power | About 12KW |
Polyurethane wood imitation materials are the best among modern wood imitation materials. It is a medium and high-density rigid polyurethane foam made from polyurethane composite raw materials through blending, stirring, injection molding, foaming, curing, demoulding and other processes. It is often referred to as "synthetic wood". It has the advantages of high strength, simple molding process, low manufacturing cost, high production efficiency, and beautiful product type.
Write your message here and send it to us
Related products
Product Description: Polyurethane foaming machine, has the economical, convenient operation and maintenance, etc, can be customized according to customer's request various pours out of the machine. This polyurethane foaming machine uses two raw materials, polyurethane and Isocyanate. This type of PU foam machine can be used in various industries, such as daily necessities, automobile decoration, medical equipment, sports industry, leather footwear, packaging industry, furniture industr...

PU lines refer to lines made of PU synthetic materials. PU is the abbreviation of Polyurethane, and the Chinese name is polyurethane for short. It is made of hard pu foam. This kind of hard pu foam is mixed with two components at a high speed in the pouring machine, and then enters the mold to form a hard skin. At the same time, it adopts fluorine-free formula and is not chemically controversial. It is an environmentally friendly decorative product in the new century. Simply modify the formul...