JYYJ-3H Polyurethane High-pressure Spraying Foaming Equipment
Introduction
Detail
Specification
Application
Video
Product Tags
1. Stable cylinder supercharged unit, easily providing adequate working pressure;
2. Small volume, light weight, low failure rate, simple operation, easy mobility;
3. Adopting the most advanced ventilation method, guarantee equipment working stability to the maximum;
4. Minimizing spraying congestion with 4-layers-feedstock device;
5. Multi-leakage protection system to protect the safety of the operator;
6. Equipped with emergency switch system, help operator deal with emergencies rapidly;
7. Reliable & powerful 380V heating system enables rapid warming of raw materials to the best state, making sure it works great in cold condition;
8. Humanized design with equipment operation panel, super easy to get the hang of it;
9. Feed pump adopts big change ratio method, it can easily feed raw materials high viscosity even in winter.
10. The latest spraying gun has great features like small volume, light weight, low failure rate, etc;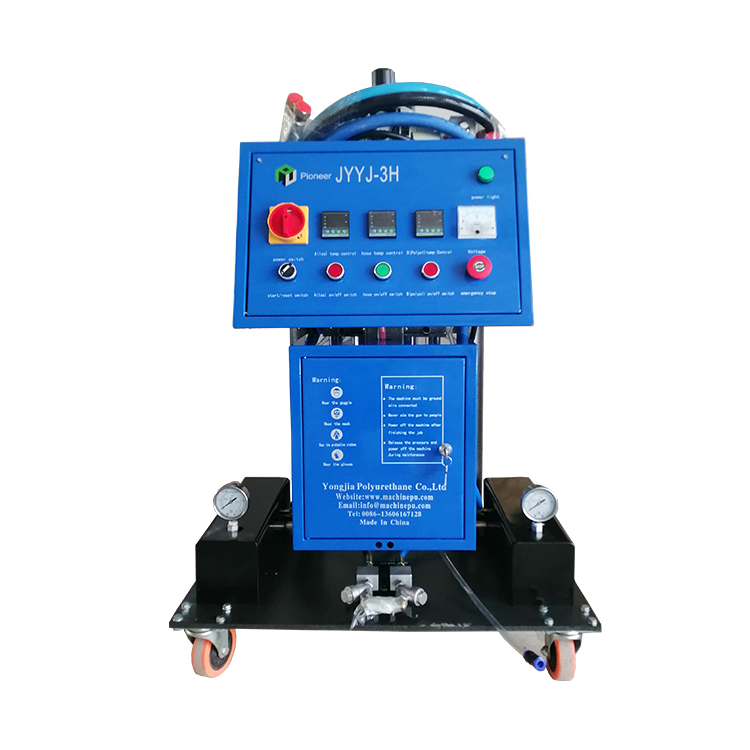 ---
---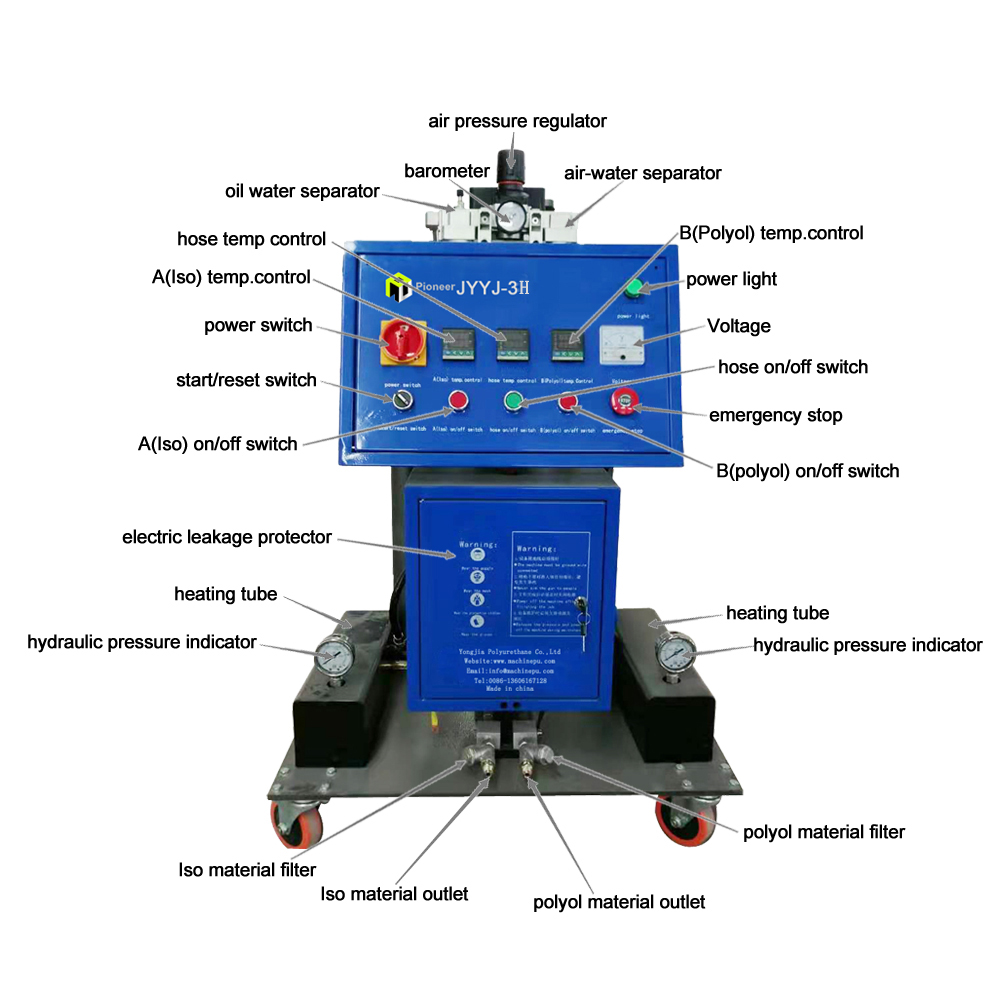 Air pressure regulator: adjusting highs and lows of input air pressure;
Barometer: displaying input air pressure;
Oil-water separator: providing lubricating oil for the cylinder;
Air-water separator: filtering the air and water in the cylinder:
Power light: showing if there's voltage input, light on, power on; light off, power off
Voltmeter: displaying voltage input;
Temperature control table: Setting and displaying real-time system temperature;
Thermostat switch: Controlling on-and-off of the heating system. When it's on, the system temperature will cut off the power automatically after the temperature reaches the setting, the light is off at the moment; When the temperature is below the setting, it will activate heating system automatically, the light is on at the moment; If heating is no longer needed, you can manually turn off the switch, the light is off at the moment.
Start / Reset switch:  When starting the machine, switching the button to Start. When the work is done, switching it to the reset direction.
Hydraulic pressure indicator: Displaying the output pressure of Iso and polyol material when the machine is working
Emergency switch: Cutting off power rapidly in emergencies;
Raw material outlet: Outlet of Iso and polyol materials and are connected with Iso and polyol material pipes;
Main power: Power switch to turn on and off of the equipment
Iso/polyol material filter: filtering impurities of Iso and polyol material in the equipment;
Heating tube: heating Iso and polyol materials and is controlled by Iso/polyol material temp. control
Power source
single phase

380V 50HZ

Heating power

9

.5KW
Driven mode:
pneumatic
Air source
0.5~0.8 MPa ≥0.9m³/min
Raw output
2~1

0

 kg/min
Maximum output pressure

25

Mpa
AB material output ratio
1:1
This equipment can be used for various construction environment with spraying a variety of two-component materials spray(optional) like polyurethane foaming materials, etc, widely used in embankment waterproof, pipeline corrosion, auxiliary cofferdam,tanks, pipe coating, cement layer protection, wastewater disposal,roofing, basement waterproofing, industrial maintenance, wear-resistant linings, cold storage insulation, wall insulation and so on.
Write your message here and send it to us