High Pressure Foam Injection Machine for Bedroom 3D Wall Panels
Introduction
Details
Specification
Application
Product Tags
Introduction of Luxury ceiling wall panel
3D leather tile is constructed by high quality PU leather and high density memory PU foam, no back board and no glue. It can be cut by utility knife and installed with glue easily.
Features of Polyurethane Foam Wall Panel
PU Foam 3D Leather Wall Decorative Panel is used for background wall or ceiling decoration. It is comfortable, textured, sound proof, flame-retardant, 0 Formaldehyde and easy to DIY which can presents an elegant effect. Faux leather designer covering offers endless possibilities for your walls.
Machine Used to Making Leather Carving Decorative Panel
High pressure foam machine
★The foaming machine is compatible with 141B, all-water foaming system foaming;
★The injection mixing head can move freely in the six directions:
★The black and white material pressure needle valve is locked after being balanced to ensure that there is no pressure difference in the black and white material pressure;
★The magnetic coupling adopts high-tech permanent magnet control, no temperature rise, no leakage;
★Automatically clean the gun regularly after filling the mixing head;
★The injection program provides 100 stations with direct weight setting to meet the production of multiple products;
★The mixing head is controlled by double proximity switches to achieve precise injection;
★Inverter soft start and automatic switching of high and low frequency, low carbon energy saving and environmental protection, greatly reducing energy consumption;
★Fully digital, modular integrated control of all technological processes, precise, safe, intuitive, intelligent and humane.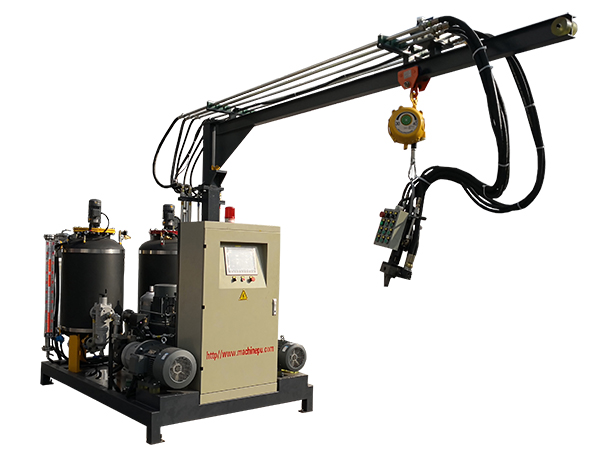 ---
Previous:
PU Trowel Mold
---
The equipment is composed of frame-storage tank-filter-metering unit-high and low pressure switching unit-mixing head and hydraulic system, electrical control system, temperature control unit, heat exchanger, and various pipelines.
Mixing head
The high-pressure foaming mixing head is the core component of the high-pressure foaming equipment. The principle is: the high-pressure foaming machine equipment supplies two or more components of polyurethane raw materials to the mixing head, and the high-pressure atomization sprays and collides to make the raw materials uniform It is mixed to form a fluid foaming composite material, which flows into the pouring mold through a pipe, and foams itself.
High and low pressure cycle switching unit
The high and low pressure cycle switching unit separately controls the high and low pressure cycle switching of the two components, so that the components can form a low-energy cycle and extend the service life of the machine.
Electrical control system
Use man-machine interface manipulator to set and display the injection time, test time, pressure of the machine, Process data such as time.
No.

Item

Technical parameter

1

Foam application

3D Wall Panel

2

Raw material viscosity(22℃)

POLY ~2000MPas

ISO ~1000MPas

3

Injection pressure

10-20Mpa(adjustable)

4

Output (mixing ratio 1:1)

50~200g/s

5

Mixing ratio range

1:5~5:1(adjustable)

6

Injection time

0.5~99.99S(correct to 0.01S)

7

Material temperature controlling error

±2℃

8

Repeat injection accuracy

±1%

9

Mixing head

Four oil house,double oil cylinder

10

Hydraulic system

Output: 10L/min

System pressure 10~20MPa

11

Tank volume

250L

15

Temperature control system

Heat: 2×9Kw

16

Input power

Three-phase five-wire 380V
Write your message here and send it to us