5 Gallon Hand Blander Mixer
Introduction
Specification
Application
Product Tags
Feature
Introducing our Industrial-grade Pneumatic Handheld Mixer for Raw Material Paints, a cutting-edge solution designed to excel in industrial settings. This mixer is meticulously crafted to meet the demands of the manufacturing environment, offering exceptional performance and reliability. Engineered with advanced pneumatic technology, it stands as a powerhouse for seamlessly blending raw material paints and coatings. The ergonomic handheld design enhances usability while providing precise control over the mixing process, ensuring consistent quality and efficiency.
Robust Mixing Power: Driven by a powerful pneumatic system, this mixer achieves rapid and uniform blending of raw material paints, significantly boosting production efficiency.
Stability and Precision: Careful engineering guarantees stability during operation, enabling precise control over the mixing intensity to avoid over-mixing or uneven results.
Durability Beyond Measure: Constructed from materials resistant to corrosion and wear, this mixer thrives in even the harshest industrial conditions.
User-Friendly Design: The handheld form factor enhances maneuverability and ease of operation, enabling operators to effortlessly transport and utilize the mixer across different workstations.
Safety First: Equipped with comprehensive safety mechanisms, it ensures secure operation, minimizing risks and promoting a secure working environment.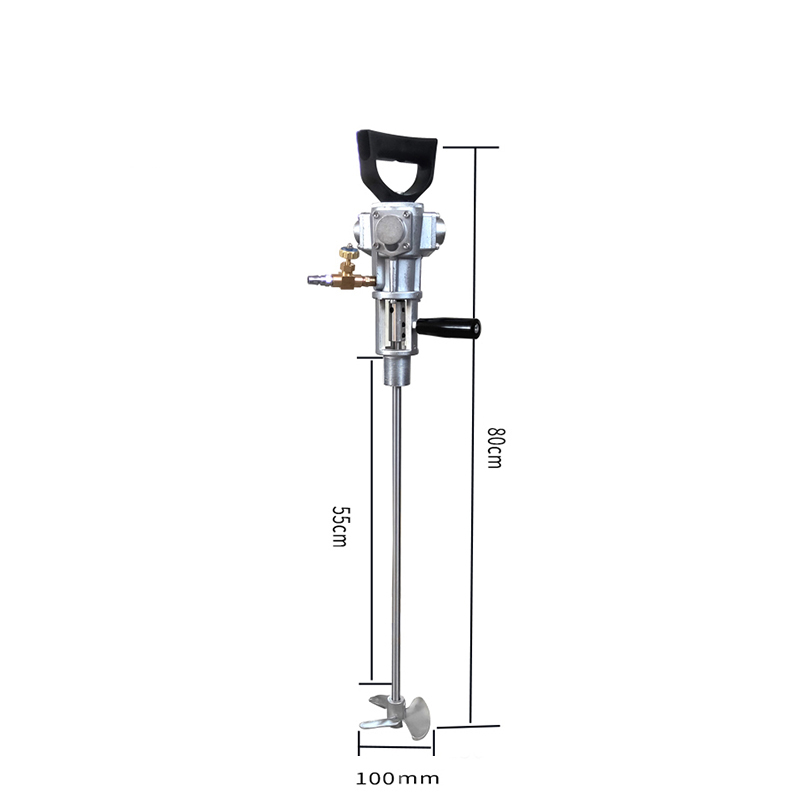 ---
---
Automotive Manufacturing: Essential for blending automotive paints, primers, and coatings, ensuring impeccable finishes and product durability.
Metal Fabrication: Ideal for mixing metal coatings and specialized paints, safeguarding against corrosion and enhancing visual appeal.
Furniture Production: Vital for uniformly mixing wood coatings and paints, delivering flawlessly finished furniture pieces.
Construction Industry: Crucial in preparing construction paints, adhesives, and sealants, contributing to structural integrity and aesthetics.
Chemical Production: Indispensable for mixing diverse chemical compounds in pigment, resin, and coating production.
Write your message here and send it to us