High Pressure JYYJ-Q200(K) Wall Insultion Foam Coating Machine
Introduction
Details
Specification
Applications
Product Tags
The high-pressure polyurethane foaming machine JYYJ-Q200(K) breaks through the limitation of the previous equipment of 1:1 fixed ratio, and the equipment is a 1:1~1:2 variable ratio model. Drive the booster pump to do hedging movement through two connecting rods.
Each connecting rod is equipped with scale positioning holes. Adjusting the positioning holes can lengthen or shorten the stroke of the booster pump to realize the ratio of raw materials. This equipment is suitable for customers whose raw material ratio is not fixed.
Features
1. pneumatic supercharging device, with small volume, light weight, low failure rate, simple operation, easy operation and other great features;
2. adopting the most advanced ventilation method, guarantee equipment working stability to the maximum;
3. minimizing spraying congestion with multi-feedstock device;
4. multi-leakage protection system to protect the safety of the operator;
5. equipped with emergency switch system, help operator deal with emergencies rapidly;
6. great 380V heating system enables rapid warming of raw materials to the best state, speeds up normal operation progress;
7. digital counting system can understand original consumption timely;
8. humanized design with equipment operation panel, super easy to get the hang of it;
9. the latest spraying gun has great features like small volume, light weight, low failure rate, etc;
10. lifting pump adopts big change ratio method, the winter also can easily feed raw materials high viscosity.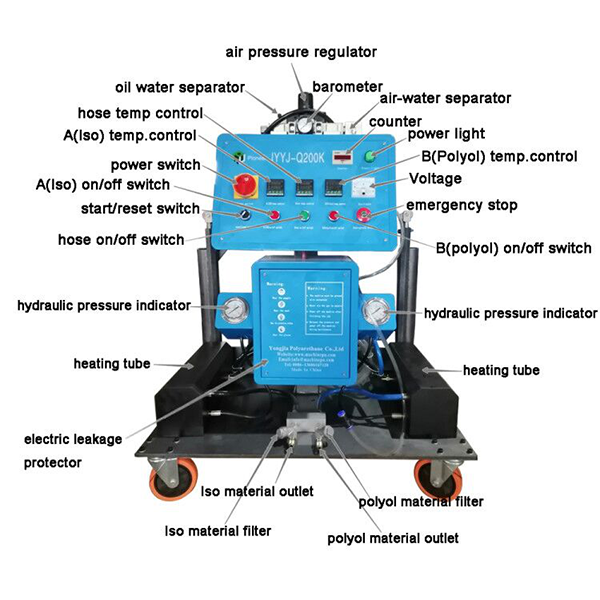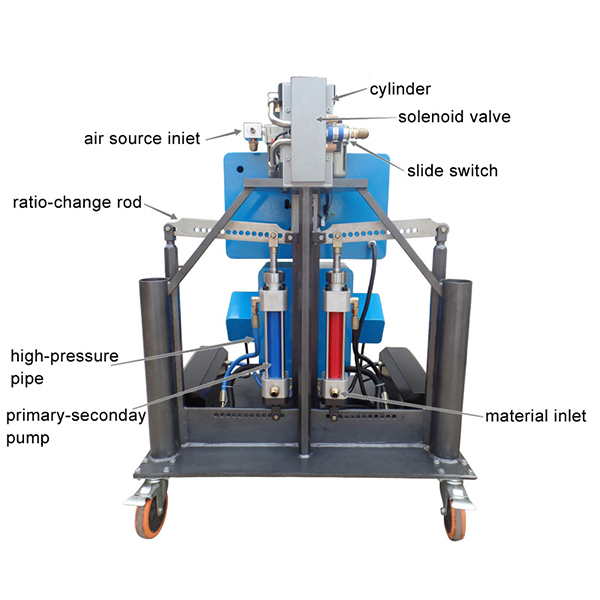 ---
---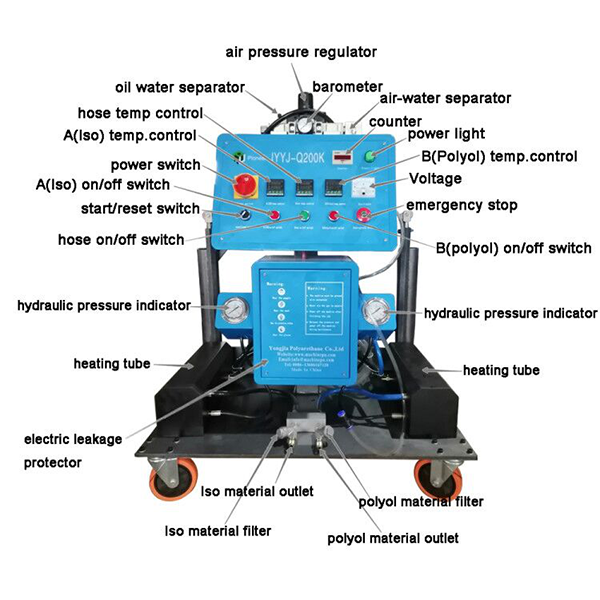 Air-water separator: filtering the air and water in the cylinder:
Power light: showing if there's voltage input, light on, power on; light off, power off
Voltmeter: displaying voltage input;
Temperature control table: setting and displaying real-time system temperature;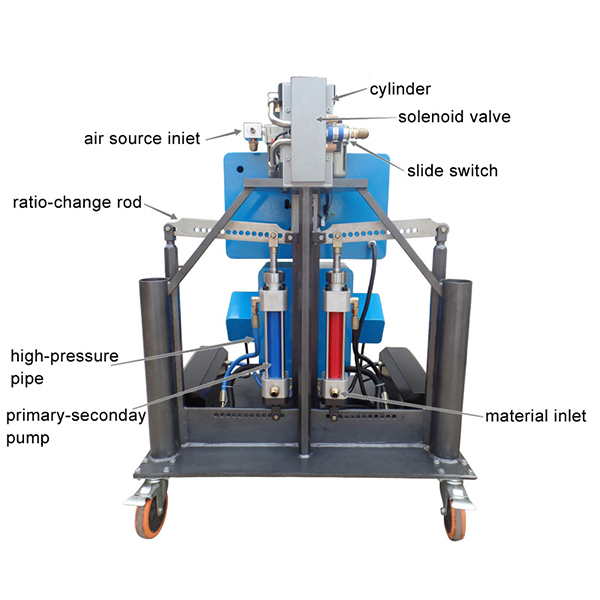 Power Input : AC 380V 50HZ
Primary-Secondary pumping system: booster pump for A, B material;
Raw material inlet : Connecting to feeding pump outlet;
Solenoid valve(electromagnetic valve): Controlling reciprocating motions of cylinder;
| | |
| --- | --- |
| Raw material | polyurethane |
| Features | A:B ratio can be adjusted(1:1~1:2) |
| POWER SOURCE | 3-phase 4-wires 380V 50HZ |
| HEATING POWER   (KW) | 11 |
| AIR SOURCE (min) | 0.5~0.8Mpa≥0.9m3 |
| OUTPUT(kg/min) | 2~12 |
| MAXIMUM OUTPUT (Mpa) | 11 |
| Matrial A:B= | 1:1~1:2   (adjusted) |
| spray gun:(set) | 1 |
| Feeding pump: | 2 |
| Barrel connector: | 2 sets heating |
| Heating pipe:(m) | 15-90 |
| Spray gun connector:(m) | 2 |
| Accessories box: | 1 |
| Instruction book | 1 |
| weight:(kg) | 180 |
| packaging: | wooden box |
| package size(mm) | 850*98090*1330 |
| Digital counting system | √ |
| pneumatic driven | √ |
Write your message here and send it to us