Cyclopentane Series High Pressure Foaming Machine
Introduction
Details
Specification
Applications
Product Tags
The black and white materials are mixed with the premix of cyclopentane through the injection gun head of the high-pressure foaming machine and injected into the interlayer between the outer shell and the inner shell of the box or door. Under certain temperature conditions, the polyisocyanate (isocyanate (-NCO) in the polyisocyanate) and the combined polyether (hydroxyl (-OH)) in the chemical reaction under the action of the catalyst to generate polyurethane, while releasing a lot of heat. At this time, the foaming agent (cyclopentane) premixed in the combined polyether is continuously vaporized and the polyurethane is expanded to fill the gap between the shell and the liner.
Features:
1. The metering is accurate, and the high-precision metering device is adopted, and the metering accuracy is high. The metering pump adopts a magnetic connection, which will never leak and has a long service life.
2. The mixing device adopts the L-type high-pressure self-cleaning mixing head, the nozzle diameter is adjustable, and the high pressure forms a mist to mix evenly.
3. High and low pressure cycle switching device, switching between working and non-working.
4. The temperature device adopts a cooling and heating integrated machine to control a constant temperature, with an error of <±2°C.
5. Electrical control, using 10-inch touch screen, PLC module control, controlling temperature, pressure and pouring flow, storing 99 recipes, and high degree of automation.
6. A material tank: polyether/cyclopentane material tank (individually designed white material room), with a concentration detector and a high-power exhaust system.
---
---
High pressure mixing head:
South Korea imported DUT high-pressure mixing head adopts self-cleaning design and high-pressure collision mixing principle.
High-pressure collision mixing is to convert the pressure energy of the components into kinetic energy, so that the components obtain high speeds and collide with each other, thereby producing sufficient mixing. The mixing quality is related to the characteristics of the raw materials (viscosity, temperature, density, etc.), the injection pressure and the injection pressure difference. The high-pressure mixing head does not need to be cleaned for multiple pouring. It is recommended to maintain and replace the head seal for 400,000 times.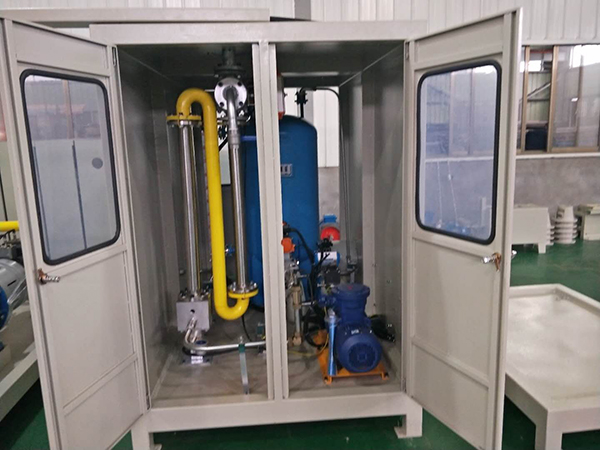 Pressure limitation and control system:
The working pressure of the polyether polyol and isocyanate components is controlled at 6-20MPa; when the working pressure exceeds this range, the equipment will automatically shut down, alarm and display the fault message of "working pressure too low" or "working pressure too high".
The ultimate safety pressure of the component metering pump is set to 22MPa by the safety valve. The safety valve has a mechanical protection function to ensure the safety of the metering pump and the system.
The pre-pressure of the component metering pump is set to 0.1MPa. When the pre-pressure is lower than the set value, the equipment will automatically stop and alarm and display the fault message of "pre-pressure too low".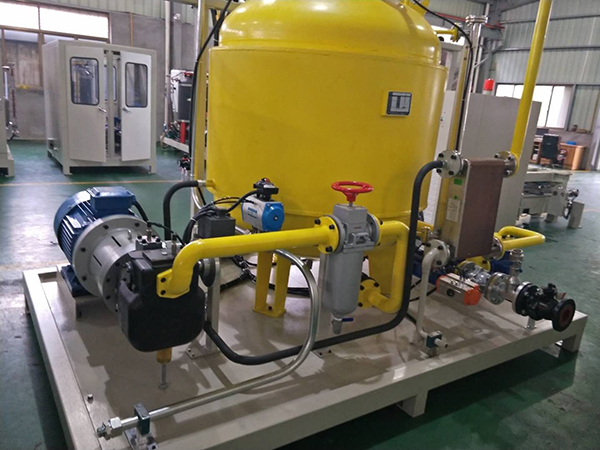 Pneumatic system:
The tank pressure maintaining device consists of a nitrogen pressure reducing valve, a connecting frame and a pressure relay. When the nitrogen pressure is lower than the set value of the pressure relay, the equipment will automatically shut down and give an alarm. At the same time, the polyol/cyclopentane tank feed valve and outlet The feed valve is closed, cutting off the inlet and outlet pipes of cyclopentane.
Control components are composed of pneumatic triplet, air valve, muffler, etc., which are used to control system work;
No.

Item

Technical Parameters

1

Applicable foam type

rigid foam

2

Applicable raw material viscosity(25℃)

Polyol/cyclopentane ~2500MPas

Isocyanate    ~1000MPas

3

Injection pressure

6~20MPa(adjustable)

4

Repeat injection accuracy

±1%

5

Injection flow rate(mixing ratio1:1)

100~500g/s

6

Mixing ratio range

1:1~1.5(adjustable)

7

Injection time

0.5~99.99S(accurate to 0.01S)

8

Material temperature control error

±2℃

9

Hydraulic system

System pressure:10~20MPa

10

Tank volume

500L

11

Required amount of compressed air

Dry and oil-free  P:0.7Mpa

Q:600NL/min

12

Nitrogen requirement

P:0.7Mpa

Q:600NL/min

13

Temperature control system

Heating:2×6Kw

Cooling:22000Kcal/h(cooling capacity)

14

Explosion-proof standard

GB36.1-2000 "General Requirements for Explosion-proof Equipment for Explosive Environments", the electrical protection level is above IP54.

15

Input power

three-phase four-wire, 380V/50Hz
Write your message here and send it to us