Polyurethane Concrete Power Plastering Trowel Making Machine
Introduction
Details
Specification
Applications
Product Tags
The machine has two possession tanks, each for independent tank of 28kg. Two different liquid materials are entered into the two ring shaped piston metering pump from two tanks respectively. Start the motor and the gearbox drives two metering pumps to work at the same time. Then two kinds of liquid materials are sent to the nozzle at the same time in accordance with the pre-adjusted ratio.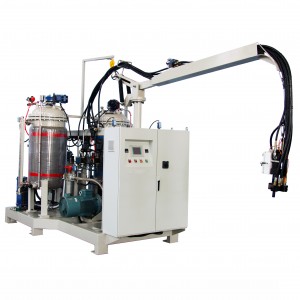 ---
---
Main components and parameter specification:
Material system consists of material tank, filter tank, metering pump, material pipe, infusion head,cleaning tank.
Material Tank:
Double interlining heating material tank with insulation outer layer, heart rapidly, low energy consumption. Liner, upper and low head all use stainless 304 material, upper head is precision machinery sealing equipped to make sure the air tight agitation.
Metering:
High precision JR series gear metering pump (pressure-tolerant 4MPa、speed 100~400r.p.m ), make sure the metering and ration accurate and stable.
Mixing device(pouring head):
Adopting floating mechanical seal device, high shearing spiral mixing head to make sure the even mixing within required adjusting range of casting mixing ratio. Motor speed is accelerated and frequency controlled through triangle belt so to realize the high speed rotation of mixing head in mixing chamber. A,B materials enter into mixing head through orifice after switching to pouring state; to assure the accurate metering and error control, relief valve is installed in return material block, B material relief valve can be finely tuned when viscosity<50CPS to keep the pouring pressure same as circulating pressure. Reliable and efficient sealing device should be equipped to avoid material discharge and keep bearing function well when mixing head running in high speed.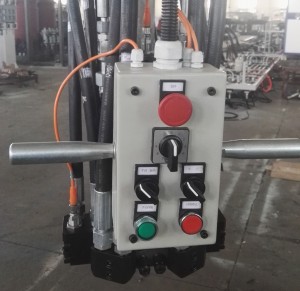 No

Item

Technical parameter

1

Foam application

Rigid foam

2

raw material viscosity(22℃)

~3000CPS

 ISO  ~1000MPas

3

Injection output

80~375g/s

4

Mixing ratio range

100:50~150

5

mixing head

 

  2800-5000rpm, forced dynamic mixing

6

Tank volume

120L

7

metering pump

A pump:

GPA3-

25

 Type

B Pump: GPA3-25 Type

8

input power

three-phase five-wire 380V 50HZ

9

Rated power

About 12KW
Plastic Plastering Tools PU Float Trowel
Used for sand, cement, setting, render and screed. Widely used in the construction industry, and it is favored by the workers.
What is PU Trowel
Polyurethane Plastering Float differs itself from old products, by overcoming the shortcomings such as heavy, inconvenient to carry and use, easy worn and easy corrosion, etc. The greatest strengths of Polyurethane Plastering Float are light weight, strong strength, abrasion resistance, corrosion resistance,anti-moth, and low temperature resistance, etc. With higher performance than polyester, glass fiber reinforced plastic and plastics, Polyurethane Plastering Float is a good substitution of similar products made of wood or iron.
Write your message here and send it to us