Polyurethane PU JYYJ-Q200(D) Wall Spray Foaming Machine
Introduction
Details
Specification
Application
Product Tags
JYYJ-Q200 (D) two-component pneumatic Polyurethane Foam Sprayer Machine is used for spraying and pouring, and is used in many fields such as roof insulation of building roofs, cold storage construction, pipeline tank insulation, automobile bus and fishing boat insulation.
Features
1. Secondary pressurized device to ensure fixed material proportion of equipment, improve product yield;
2. With small volume, light weight, low failure rate, easy operation and other great features;
3. Feed rate can be adjusted,have time-set,quantity-set features, suitable for batch casting, improve production efficiency;
4. Adopting the most advanced ventilation method, guarantee equipment working stability to the maximum;
5. Minimizing spraying congestion with multi-feedstock device;
6. Multi-leakage protection system to protect the safety of the operator;
7. Equipped with emergency switch system, help operator deal with emergencies rapidly;
8. Humanized design with equipment operation panel, super easy to get the hang of it;
9. The latest spraying gun has great features like small volume, light weight, low failure rate, etc;
10. Lifting pump adopts big change ratio method, the winter also can easily feed raw materials high viscosity.
Operation Notes
Polyurethane foam system is formed from different centralized chemical substances, some of which can be hazardous to humans if not used properly. Thus necessary precaution is highly required while in use. It generates fine particles during the use of polyurethane spray equipment. Operators must take good precautions to protect respiratory and eyes and other important body parts. The following precautions measures is highly required while using polyurethane spray equipment:
● Protective mask required
● Splash-proof goggles required
● Chemical Protective Clothing
● Protection Gloves required
● Protective footwear required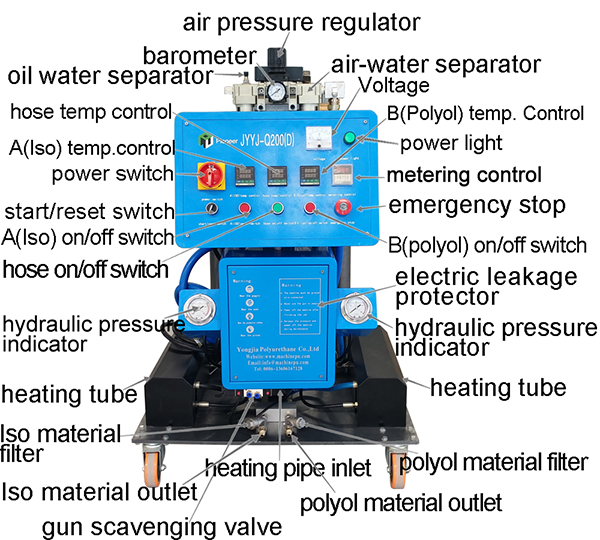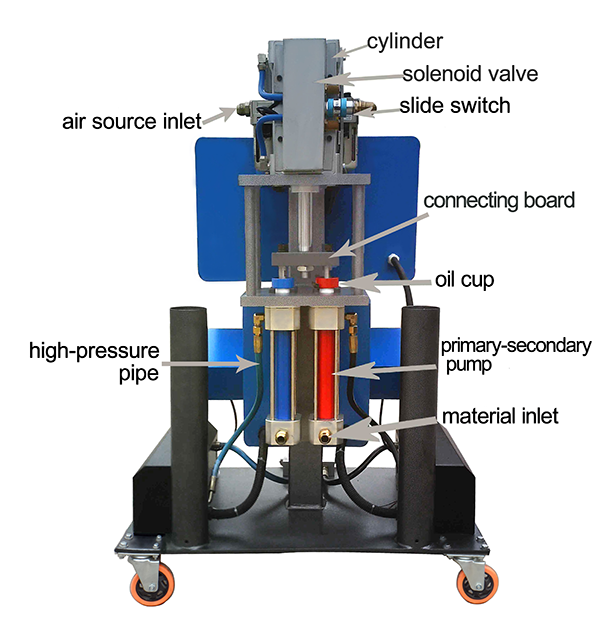 ---
---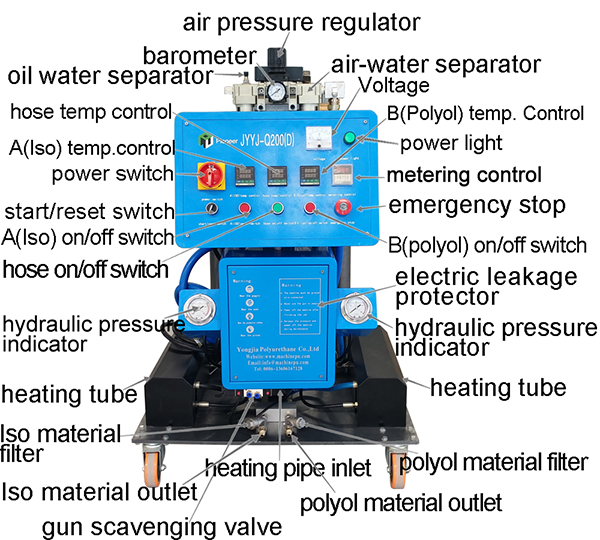 Counter: displaying the running times of primary-secondary pump
Power light: showing if there's voltage input, light on, power on; light off, power off
Voltmeter: displaying voltage input;
Temperature control table: setting and displaying real-time system temperature;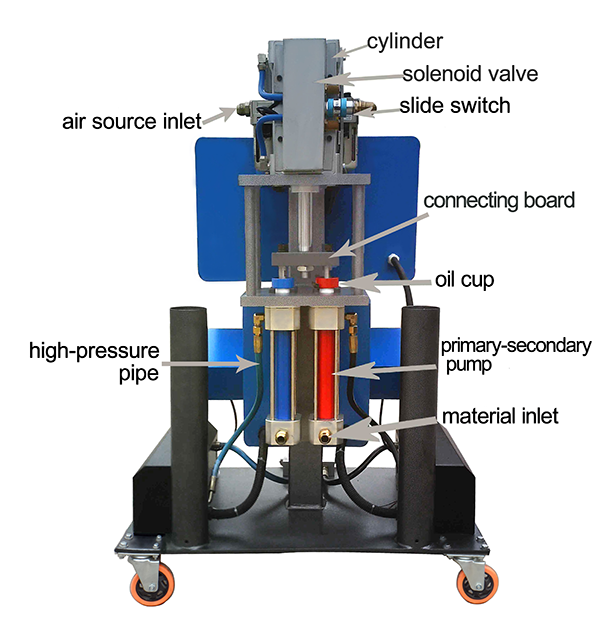 Cylinder: booster pump power source;
Power Input : AC 380V 50HZ 11KW;
Primary-Secondary pumping system: booster pump for A, B material;
Raw material inlet : Connecting to feeding pump outlet;
Raw material

polyurethane

Features

1. Feed amount adjusted, time-set & quantity-set
2. can be used both for spraying
and casting, with higher production efficiency

POWER SOURCE

3-phase 4-wires 380V 50HZ

HEATING POWER   (KW)

11

AIR SOURCE (min)

0.5~0.8Mpa≥0.9m3

OUTPUT(kg/min)

2~12

MAXIMUM OUTPUT (Mpa)

11

Matrial A:B=

1;1

spray gun:(set)

1

Feeding pump:

2

Barrel connector:

2 sets heating

Heating pipe:(m)

15-90

Spray gun connector:(m)

2

Accessories box:

1

Instruction book

1

weight:(kg)

116

packaging:

wooden box

package size(mm)

910*890*1330

Feed amount adjusted, time-set & quantity-set

√

pneumatic driven

√
Write your message here and send it to us