JYYJ-3D Polyurethane Foam Spraying Machine
Introduction
Details
Specification
Applications
Product Tags
Pu and Polyurea material has many advantages such as insulation, heat proofing, noise proofing and anti corrosion etc. Widely used in many areas. Environmental friendly and energy saving. The insulation and heat proofing function are better than any other materials.
The function of this pu spray foam machine is to extract polyol and isocycanate material. Make them pressurized. So both materials combined by high pressure in the gun head and then spray out spray foam soon.
Features:
1. Secondary pressurized device to ensure fixed material proportion of equipment, improve product yield;
2. With small volume, light weight, low failure rate, easy operation and other great features;
3. Feed rate can be adjusted,have time-set,quantity-set features, suitable for batch casting, improve production efficiency;
4. Adopting the most advanced ventilation method, guarantee equipment working stability to the maximum;
5. Minimizing spraying congestion with multi-feedstock device;
6. Multi-leakage protection system to protect the safety of the operator;
7. Equipped with emergency switch system, help operator deal with emergencies rapidly;
8. Humanized design with equipment operation panel, super easy to get the hang of it;
9. The latest spraying gun has great features like small volume, light weight, low failure rate, etc;
10. Lifting pump adopts big change ratio method, the winter also can easily feed raw materials high viscosity.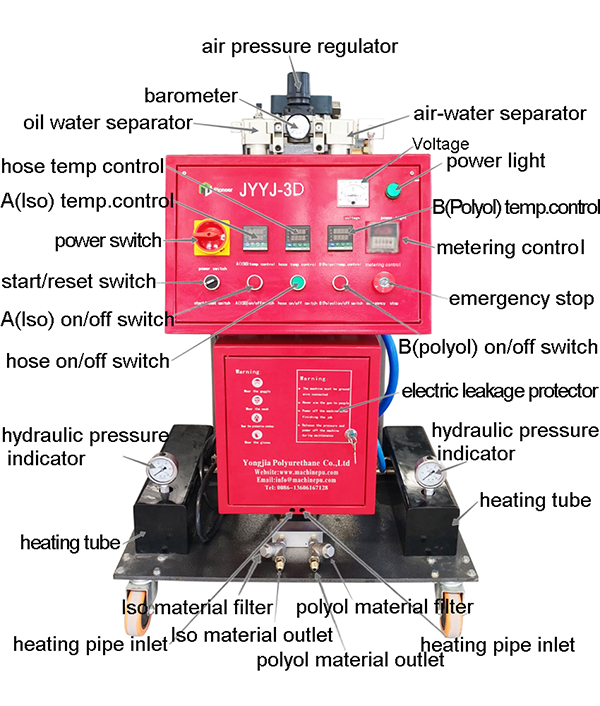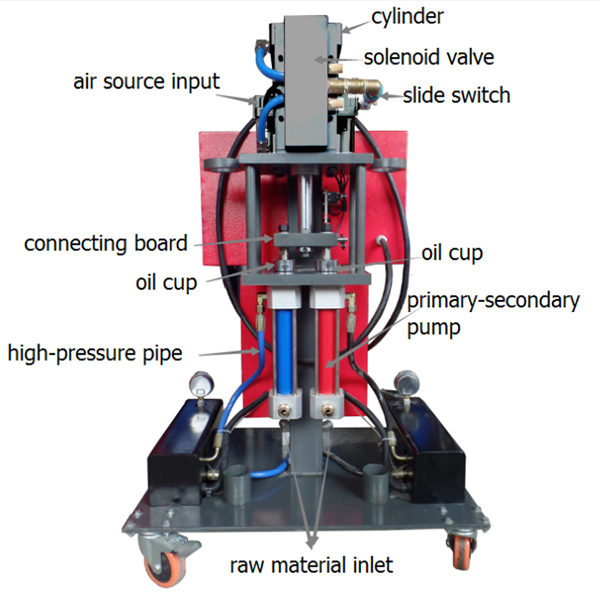 ---
---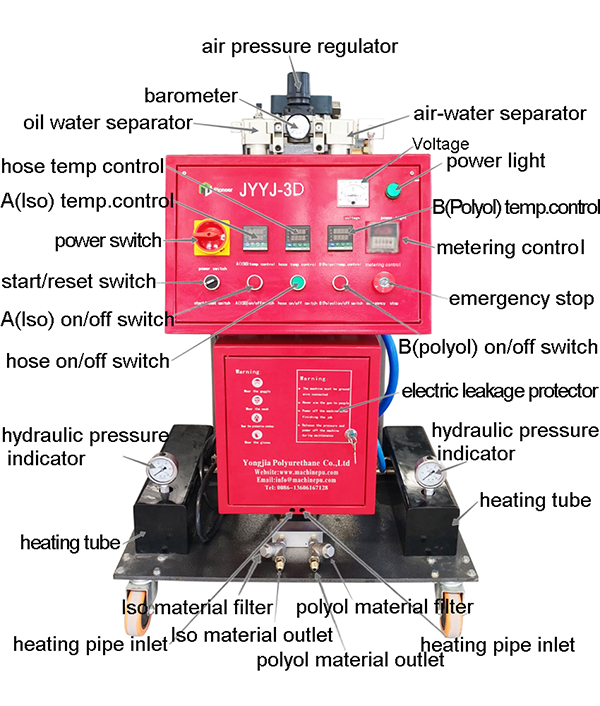 Air pressure regulator: adjusting highs and lows of input air pressure;
Barometer: displaying input air pressure;
Oil-water separator: providing lubricating oil for the cylinder;
Air-water separator: filtering the air and water in the cylinder:
Metering control: setting up the time range for injection;
Power light: showing if there's voltage input, light on, power on; light off, power off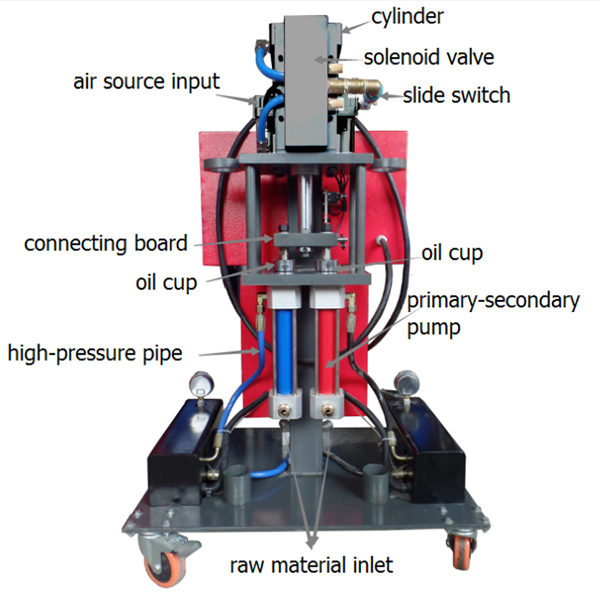 Air source input: connecting with air compressor;
Slide switch: Controlling input and on-and-off of the air source;
Cylinder: booster pump power source;
Power Input : AC 220V 50HZ;
Primary-Secondary pumping system: booster pump for A, B material;
Raw material inlet : Connecting to feeding pump outlet;
Solenoid valve(electromagnetic valve): Controlling reciprocating motions of cylinder;
Raw material

polyurethane

Features

1.with metering control
2. Feed amount adjusted, time-set & quantity-set
3. can be used both for spraying and casting, with higher production efficiency

POWER SOURCE

1 phase 220V 50HZ

HEATING POWER   (KW)

7.5

AIR SOURCE (min)

0.5~0.8Mpa≥0.9m3

OUTPUT(kg/min)

2~12

MAXIMUM OUTPUT (Mpa)

11

Matrial A:B=

1;1

spray gun:(set)

1

Feeding pump:

2

Barrel connector:

2 sets heating

Heating pipe:(m)

15-60

Spray gun connector:(m)

2

Accessories box:

1

Instruction book

1

weight:(kg)

109

packaging:

wooden box

package size(mm)

910*890*1330

pneumatic driven

√
1. Insulation & Coating: external wall insulation, internal wall insulation, roof, cold storage, ship cabin, cargo containers,trucks, refrigerated trucks,tank, etc.
2. Casting: solar water heaters,tank insulation, cabin, insulation board, security doors, refrigerators, pipes, road construction, packaging, road construction, wall insulation, etc.
3. Slab Lifting: Injecting polyurethane foam into the voids beneath settled or swaying concrete slabs stabilizes them without excavating and adding weight.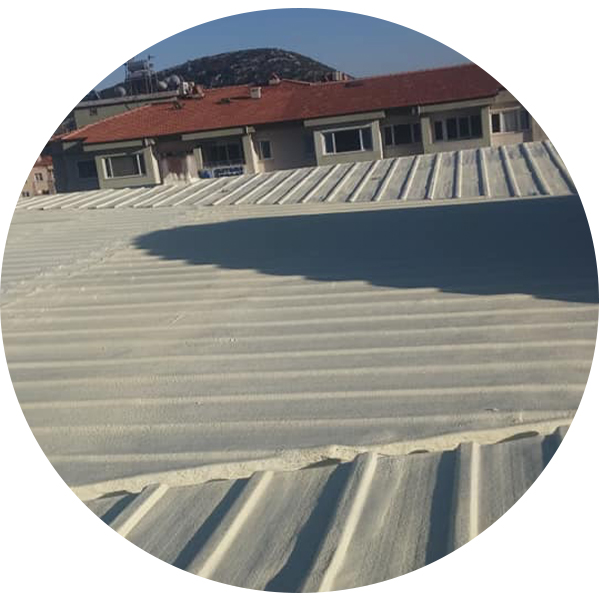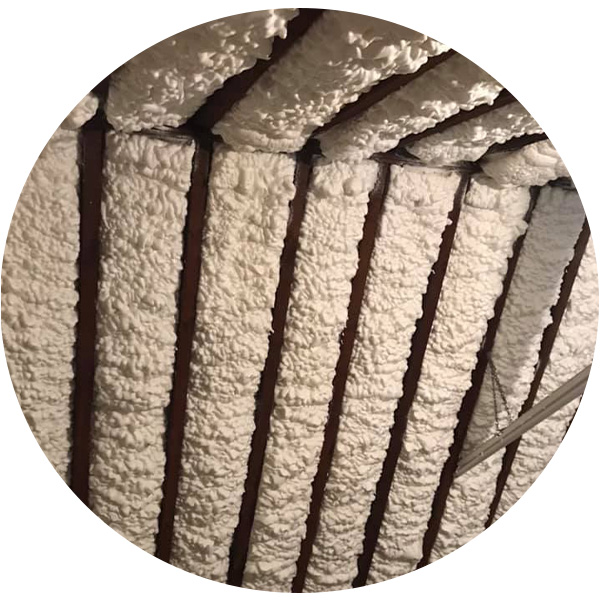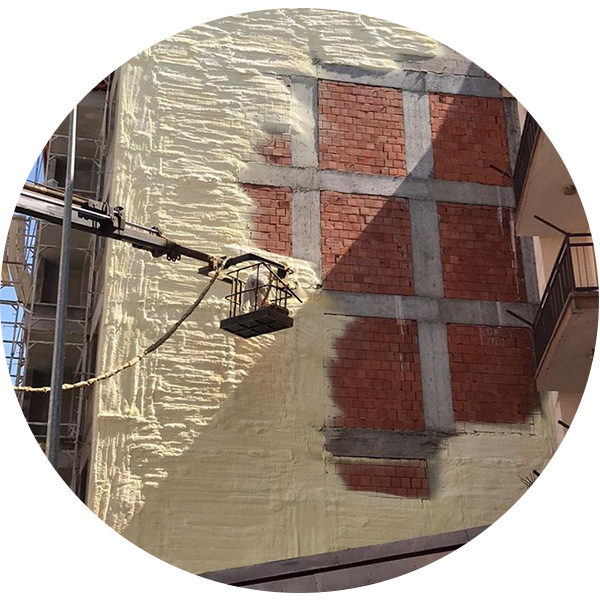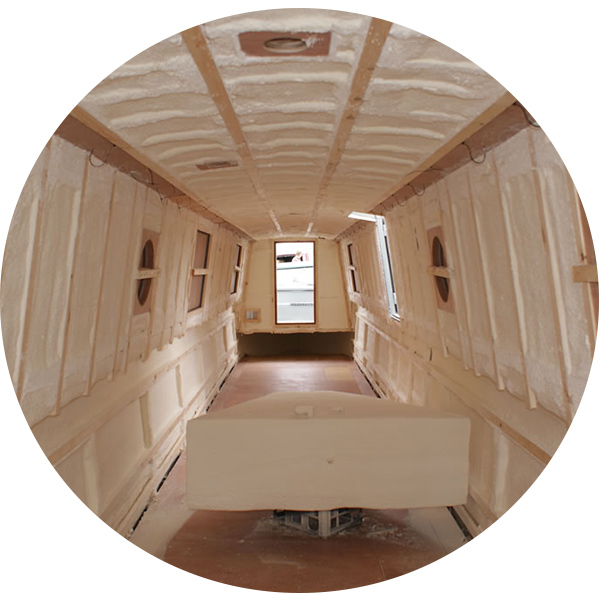 Write your message here and send it to us