Polyurethane High Preasure Foaming Machine For Memory Foam Pillow
Introduction
Detail
Specification
Applications
Product Tags
PU high preasure foaming machine is mainly suitable for producing all kinds of high-rebound, slow-rebound, self-skinning and other polyurethane plastic molding products. Such as: car seat cushions, sofa cushions, car armrests, sound insulation cotton, memory pillows and gaskets for various mechanical appliances, etc.
Features
1.Adopting three layer storage tank, stainless steel liner, sandwich type heating, outer wrapped with insulation layer, temperature adjustable, safe and energy saving;
2.Adding material sample test system, which can be switched freely without affecting normal production, saves time and material;
3.Low speed high precision metering pump, accurate ratio, random error within ±0.5%;
4.Material flow rate and presure adjusted by converter motor with variable frequency regulation, high accuracy, simple and rapid ration adjusting;
5.High-performance mixed device, accurately synchronous materials output, even mixture. New leakproof structure, cold water cycle interface reserved to ensure no blockage during long downtime;
6.Adopting PLC and touch screen man-machine interface to control the injection, automatic cleaning and air flush, stable performance, high operability, automatically distinguish, diagnose and alarm abnormal situation, display abnormal factors;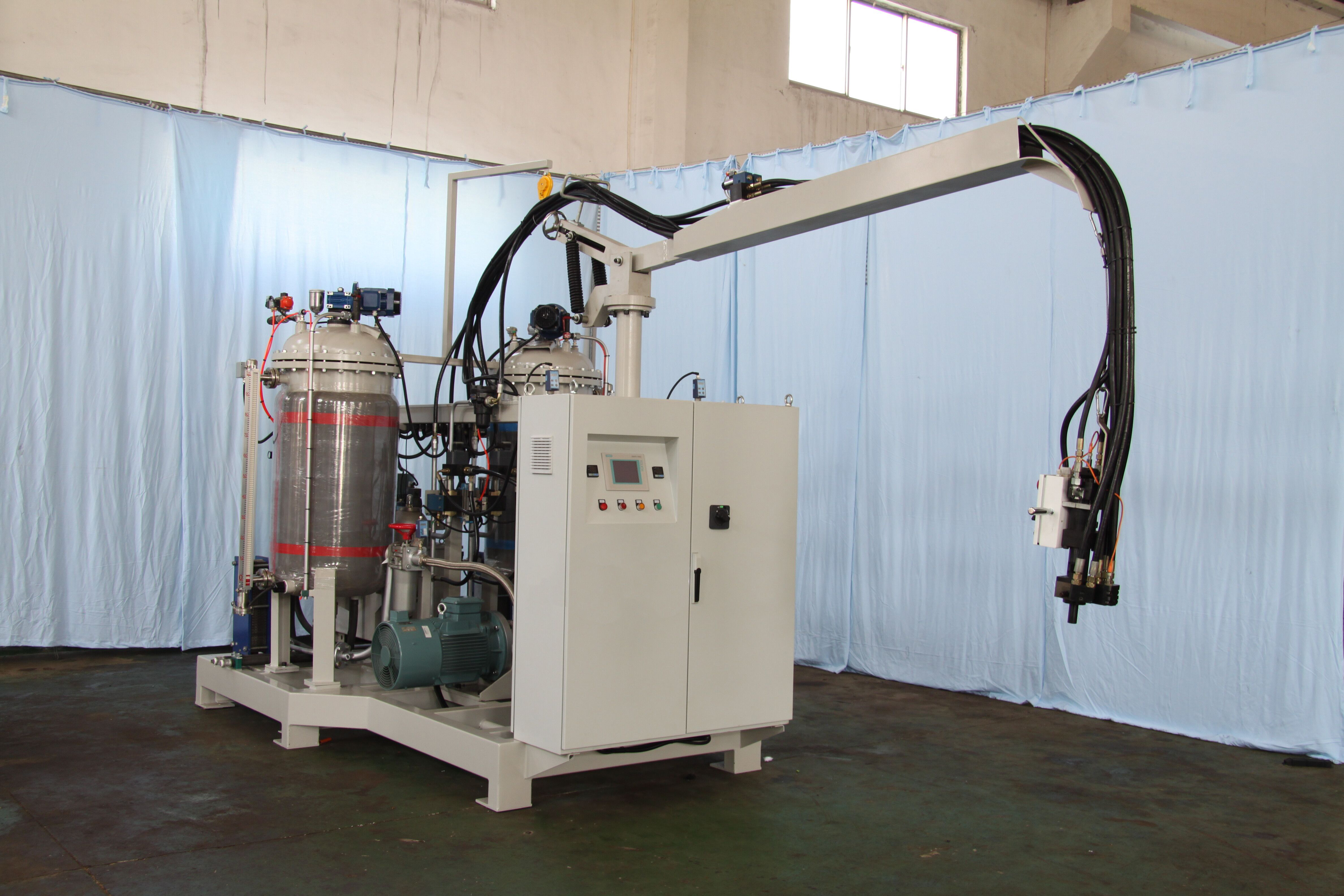 ---
---
In order to facilitate on-site management and personnel operation, there are eight main menus in the touch screen, namely: main control page, parameter setting page, station setting page, recipe setting page, flow test page, temperature setting page, input monitoring page and Output monitoring page.
1. Process parameters and display: metering pump speed, injection time, injection pressure, mixing ratio, date, temperature of raw materials in the tank, fault alarm and other information are displayed on a 10-inch touch screen.
2. The high and low pressure switching function of the foaming machine adopts the self-developed pneumatic three-way rotary valve to switch. There is an operation control box on the gun head. The control box is equipped with a station display LED screen, an injection button, emergency Stop button, cleaning rod button, sampling button. And it has a delayed automatic cleaning function. One-click operation, automatic execution.
3. The equipment is equipped with production management control software, which is convenient for production management. Mainly refers to the proportion of raw materials, injection times, injection time, station formula and other data.
4. The device has a flow test function: the flow rate of each raw material can be tested individually or at the same time. The PC automatic ratio and flow calculation function is used in the test process. The user only needs to input the desired raw material ratio and total injection amount, and then input the current The actual measured flow, click the confirmation switch, the equipment will automatically adjust the required speed of the A/B metering pump, and the accuracy error is less than or equal to 1g.
Product Type:
Foam Net
Machine Type:
Foaming Machine
Voltage:
380V
Dimension(L*W*H):
4100(L)*1250(W)*2300(H)mm
Power (kW):
9
Weight (KG):
2000 KG
Key Selling Points:
Automatic
After Warranty Service:
Video Technical Support, Online Support, Spare Parts, Field Maintenance And Repair Service
Showroom Location:
Turkey, Pakistan, India
Marketing Type:
New Product 2020
Machinery Test Report:
Provided
Video Outgoing-inspection:
Provided
Warranty Of Core Components:
1 YEAR
Core Components:
Bearing, PLC
Strength 1:
Self-cleaning Filter
Strength 2:
Precise Metering
Feeding System:
Automatic Feeding System
Control System:
PLC Control System
Foam Type:
Flexible Foam
Tank Volume:
250L
Power:
Three-phase Five-wire 380V
Name:
High Pressure Polyurethane Foam Machine
Port:
Ningbo For High Pressure Polyurethane Foam Machine
High Light:

Quakeproof High Pressure PU Foaming Machine

Quakeproof polyurethane injection molding machine

Computerized High Pressure PU Foaming Machine
Advantages of Polyurethane Pillow
1. Absorb impact. When the pillow is placed on it, it feels like floating on the surface of the water or the cloud, and the skin feels no pressure; also known as zero pressure, sometimes when we use ordinary pillows, there will be pressure on the auricle, but when we use slow rebound pillows, it will not appear. This situation.
2, memory deformation. The ability of automatic shaping can fix the head and reduce the possibility of stiff neck; the ability of automatic shaping can properly fill the shoulder gap, avoid the common problem of air leakage at the shoulder, and can effectively prevent cervical spine problems.
3. Antibacterial and anti-mite. The slow-rebound sponge inhibits the growth of mold and removes the irritating odor produced by the growth and reproduction of mold, which is more prominent when there is sweat and saliva.
4. Breathable and hygroscopic. Since each cell unit is interconnected, it has excellent hygroscopic properties and is also breathable.
Write your message here and send it to us