Slow Rebound PU Foam Earplugs Production Line
Introduction
Details
Specification
Application
Video
Product Tags
Memory foam earplugs automatic production line is developed by our company after absorbing advanced experience at home and abroad and combining the actual requirement of polyurethane foaming machine production. Mould opening with automatic timing and function of automatic clamping, can ensure that the product curing and constant temperature time, make our products can meet the requirements of certain physical properties.This equipment adopts high precision hybrid head and metering system and distributor;Measuring system adopts servo inverter control, can ensure measurement accuracy stable operation.Through market research this production line has a saving materials, high yield, save labor and materials for the enterprise to achieve high efficiency of return, etc.
Specifications of ear plugs production line:
1.Low pressure polyurethane foam earplug production line, is specially designed as customer's need.
2.This production line has about 17 moulds, and each mould has 48 holes.
3.you can choose more moulds, if you need more production capacity.
Figures of ear plugs production line:
Slow rebound earplug automatic production line is a new polyurethane earplug production line that we manufacture by learning advanced technology from home and abroad and by referring to the actual demand of the production of polyurethane foaming machine. It is equipped with automatic timing and die-opening and die-closing function; it may ensure product curing and constant temperature time so that the product is able to meet certain physical requirements. This equipment adopts high-precision mix-head, metering system and distributor; the metering system adopts servo inverter control to ensure metering accuracy and stable operation. According to the market investigation, this production saves materials, has high yield, saves labor and materials, and therefore achieves high efficiency and high return.
---
---
Cleaning bucket:
Made from stainless steel material, provided with pressure gauge on the top for regulating pressure and provided with Y-shaped filter at the bottom to effectively filter the impurities inside the bucket, it is able to contain 20L of dichloromethane cleaning fluid.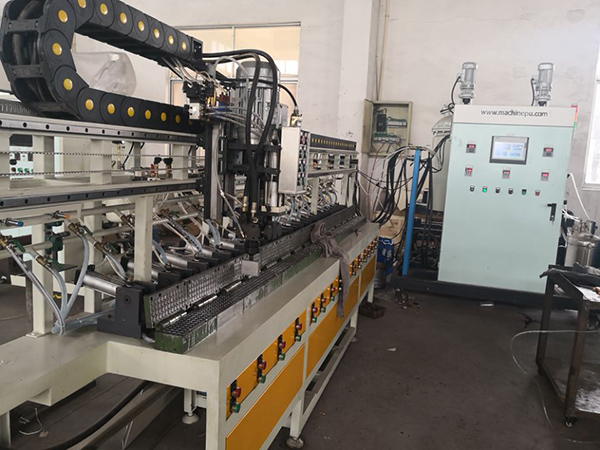 Handpiece component:
Adopting the high-speed cutting propeller type mix-head, the mix-head may ensure even mixing under specified pouring amount and mixing proportion. Increasing speed of the synchronous wheel, the mix-head rotate with high speed inside the mixing chamber. Stock solutions A1, A2 and B are switched into pouring state by their conversion valves respectively and enter the mixing chamber through the orifice.
Automatic open/close device:
With the air cylinder driving the clamping unit, through electrical control to automatically open and close the mould, significantly reduce labor intensity, and improve production efficiency.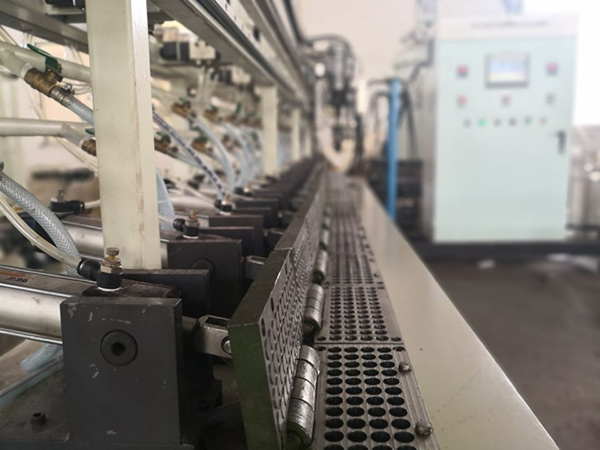 Voltage

380V 50Hz

Pneumatic working pressure

0.6-0.8MPa

Air demand

0.2m3/min

Weight

1800KG

Rated power

21.5KW

Rotating speed of the handpiece

2800-6000 rotate/minute

Discharge amount

25–66g/s

Injection repetition accuracy

≦1%

Adjusting range of injection time

0.01-99.9s

Volume of the charging bucket

120L

Mixing method

Anchored

Mixing speed

45 rotate/minute

This table is applicable to standard configuration. In case of inconsistency, please refer to the "configuration checklist" delivered with the machine.
Write your message here and send it to us